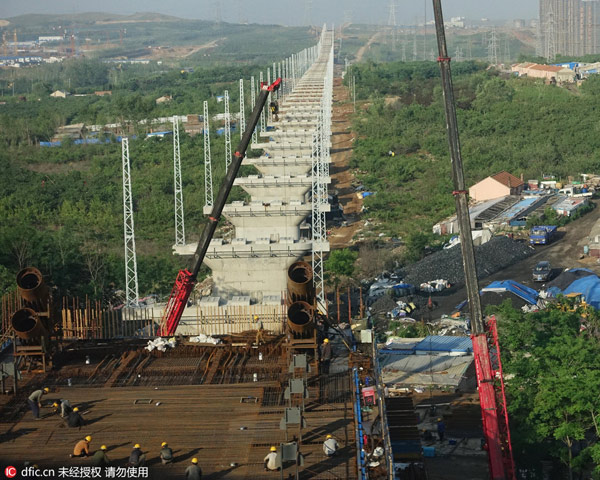 A railway construction site in Dalian, Northeast China's Liaoning province, June 11, 2015. [Photo/IC]
BEIJING - The sharp drop in fixed asset investment (FAI) in Northeast China's Liaoning province is an individual case, and its drag on China's FAI growth is expected to ease in the coming months, according to a latest research.
Official data from the Liaoning Provincial Development and Reform Commission showed the rustbelt province's FAI had declined in the past several months.
In the first five months of this year, Liaoning's FAI totaled 342.6 billion yuan ($51.51 billion), a year-on-year drop of 48.7 percent. The contraction rate was 37 percent in the January-April period, 27.4 percent in January-March, and 21.7 percent in January-February. In 2015, Liaoning's FAI fell 27.8 percent from the previous year.
"The sharp drop in Liaoning's FAI has contributed to the entire (nation's) slowdown in urban FAI growth in recent months," investment bank China International Capital Corp (CICC) said in a report.
According to CICC's calculations, Liaoning's FAI contraction has contributed an average decrease of 2 percentage points in the national FAI growth per month since September 2015.
Fixed asset investment is money used to purchase and build factories, machines, property and other fixed facilities. It has been one of the three main drivers for China's economic growth.
China's fixed asset investment grew 9 percent in the first half of 2016, down from 9.6 percent in the January-May period, 10.5 percent in January-April, 10.7 percent in January-March, and 10.2 percent in January-February, said the National Bureau of Statistics.
CICC found that China's urban FAI excluding Liaoning has shown signs of recovery in 2016, while the officially reported monthly FAI may recover by September 2016 when the "Liaoning effect" recedes.
The FAI of other provincial-level regions in China has recovered since 2016, and the mild pickup is consistent with the increase in the producer price index and the anecdotal evidence of a moderate recovery in industrial production, it said.