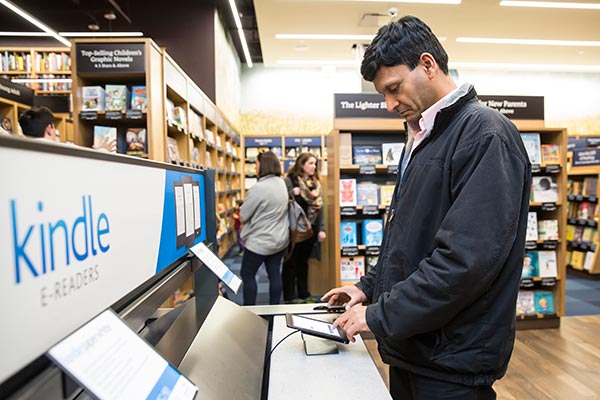 A customer uses a Kindle table device at the Amazon bookstore in Seattle, the United States. GETTY IMAGES

Firm eyes strong growth among high-end consumers
Amazon.com Inc unveiled on Thursday a top-of-the-line Kindle, extending its reach to high-end Chinese customers, who not only enjoy reading but also want to read in style.
The new generation of device, Kindle Oasis, is the priciest e-book reader Amazon has ever launched. With a price tag of 2,399 yuan ($370) in China, the all-new Kindle is much more expensive than the 1,499 yuan Kindle Voyage, which was regarded as a high-end Kindle device when it was launched in 2014.
The goal for Kindle is to build a device, which is not only comfortable for reading but also makes a fashion statement.
Elaine Chang, vice-president of Amazon who oversees Kindle's business in China, said she is betting big on the new device in the country as more young people are much more fashion-councious and require a superb reading experience beyond which a basic e-book reader can offer.
"Kindle Oasis is designed for high-end customers. With it joining Kindle's product portfolio, we have different devices targeting a wide range of customers," she said.
The new version of Kindle is not only the thinnest-about half of the thickness of an iPhone 6S-but also the lightest ever. It also has a battery life of around eight weeks.
China is one of the first countries in the world in which Kindle Oasis is available. Fans can preorder the device on various online channels, including z.cn and jd.com.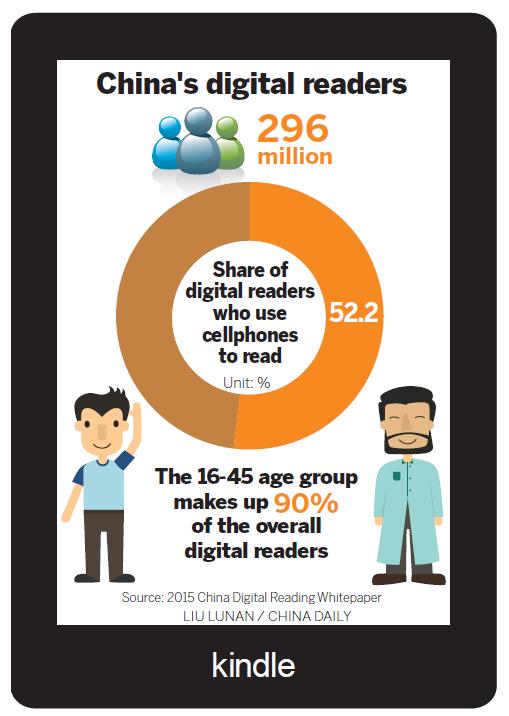 Amazon didn't reveal the market size of Kindle in China. But it said that China is the second-largest market in the world for Kindle and enjoys the strongest growth momentum. The largest market for Kindle, which in total has tens of millions of users across more than 160 countries, is still its home market-the United States.
Analysts said that after educating the digital reading market for three years in China, Kindle Oasis is a wise move for the company to gain extra users and boost loyalty among its existing customers who have higher standards for digital reading.
"But whether or not it can see significant growth in sales depends on the e-book selection it offers rather the device itself, said Yao Haifeng, analyst with the Beijing-based consultancy Analysys International.
According to Yao, an increasing number of Chinese have shifted from reading printed books to digital reading as internet becomes an integral part of people's life.
"More and more of them have formed the habit to pay for what they read, which lays a solid foundation for the further growth of e-book reader market," she said, adding there are no official statistics about the size of the e-book reader market.
Kindle, which enjoys the status as the pioneer of the e-book industry in the world, is certainly not the only company betting on the e-reading market in China. Beijing-based iReader Technology Co Ltd, which released its first e-book reader, which is priced at 899 yuan, is expected to unveil the latest version of its product later this month.
"The average number of printed books read by Chinese every year is quite low compared with the world's average but the country's digital reading population is huge, signifying great potential for the e-book reader business," said Jia Shengting, cofounder of iReader Technology.