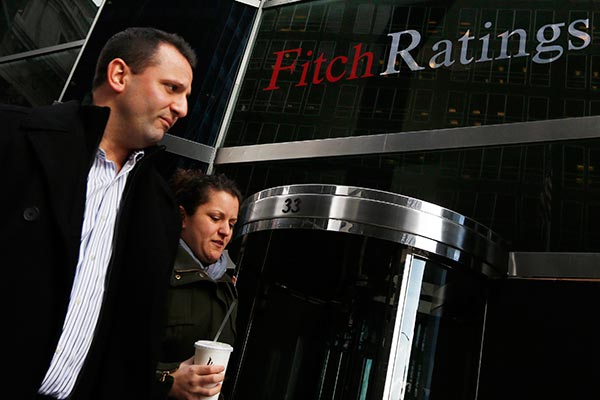 People walk past the headquarters of Fitch Ratings in New York. The company plans to double its headcount in the Chinese mainland within three years.[Photo/Agencies]
Kwong Li, head of greater China at Fitch Ratings Ltd, is looking for a bigger office in Shanghai. The company expects to double its headcount in the Chinese mainland within three years as its corporate bond market grows.
Fitch may increase its headcount in its mainland offices in the financial hub and in Beijing to about 60 from 31 in three years, Li said in Shanghai.
The expansion would include employees on its research and business development teams. China's outstanding corporate and government bonds have more than quadrupled in the past 10 years to 36.6 trillion yuan ($5.7 trillion), according to Chinabond data.
"We are optimistic about the potential development of China's bond market," Li said.
"The central bank wants to allow more foreign investors into the nation's bond market. Investors will become more diversified and more companies can issue bonds."
Premier Li Keqiang is seeking to accelerate expansion of the world's third-biggest corporate note market as domestic companies struggle with debt payments amid a weak economic growth. The central bank said in February that most types of overseas financial institutions will no longer require quotas to invest in the interbank bond market, which accounts for the bulk of debt in the country.
"When more foreign investors buy bonds in the mainland market, they may require more information about international rating agencies' ratings and views on those issuers so that they can compare bonds they invest here with bonds they invest elsewhere," Li, the Fitch executive, said.
Fitch also expects to expand the team in Hong Kong to 100 within three years from about 70 now.
Rising debt defaults in China have driven investors to seek opinions from global rating companies, said Li. At least seven firms have missed local note payments this year, already reaching the tally for the whole of last year.
"There have been almost zero defaults that generate losses for investors in China," said Li. "Local governments or other related parties have helped bail out the defaulted companies. But over the long term, we will see defaults that result in losses."