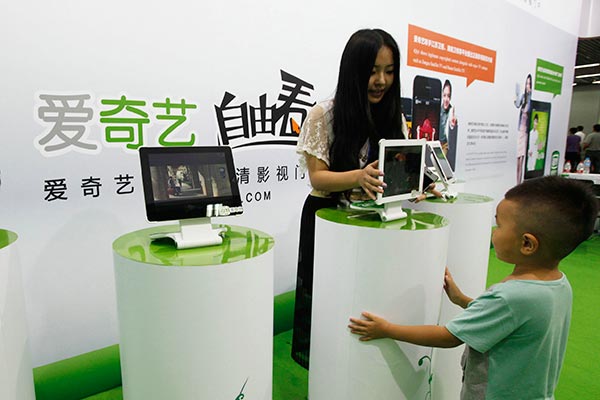 A boy checks out iQiyi video content at an international copyright fair in Beijing. DA WEI / FOR CHINA DAILY
Content-streaming websites go pay, pull in big revenues in quick time
In China, pay-to-watch is becoming popular online. The days of free online entertainment may soon become history.
Chinese audiences are learning to pay for a variety of membership packages offered by iQiyi.com, Youku Tudou Inc, Tencent Holdings Ltd and LeEco Holdings Ltd to watch popular dramas and other kinds of content online.
"The two barriers to paid online viewing-rampant piracy and lack of payment systems-no longer exist. The fee-based online viewing business has entered a phase of rapid development," said Yang Xianghua, senior vice-president of iQiyi.
In June 2015, iQiyi had 5 million paying users. By December, their number doubled to 10 million, constituting 2 percent of total viewers.
It has grown since. By March-end, iQiyi was targeting 60 million, or 10 percent of its current viewers, for pay services, according to Yang.
"So, we've made a large investment in technology and content. For example, we purchased a great number of high-quality films and TV dramas," said Yang.
According to a report by iResearch Consulting Group, the number of paying viewers in 2015 soared 264 percent to 28.84 million, and is expected to reach 54.41 million this year.
Revenue from online viewing memberships jumped from 1.39 billion yuan ($214.6 million) in 2014 to 5.13 billion yuan in 2015, up 270 percent. The next couple of years will see continued rapid growth in revenues and could reach 18.79 billion yuan in 2018.
However, the penetration rate of paid users is still low at 5.7 percent, suggesting the potential for development is huge.
It's huge because the quality and popularity of TV dramas, including foreign shows, have improved, bringing about a sharp rise in paying viewers in China. For instance, the climax of Descendants of the Sun, a South Korean TV drama, is attracting Chinese eyeballs.