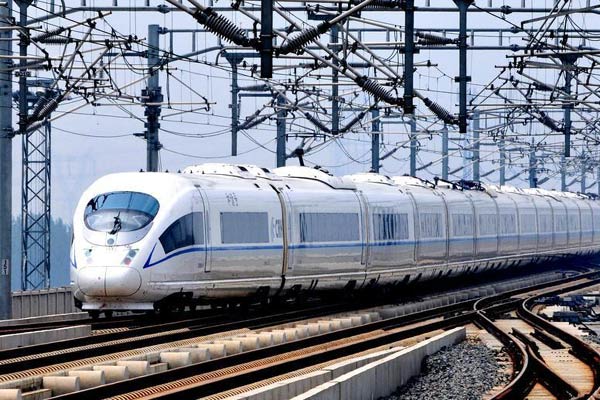 A CRH train that runs on the Beijing-Shanghai High-Speed Railway leaves Tianjin South Railway Station in North China's Tianjin, June 30, 2012. [Photo/Xinhua]
KUALA LUMPUR - Chinese companies are widely considered as the forerunner for the proposed high-speed railway project linking the Malaysian capital Kuala Lumpur and Singapore, a local media reported on Sunday.
A series of recent investment by Chinese State-owned companies have helped to lay the ground for the bid for the 350 km high-speed railway, according to the Sunday Star, a Malaysian English newspaper.
In March, China Railway Group Limited (CREC), one of China's largest State-owned companies, announced a $2 billion investment to build its regional headquarter in Bandar Malaysia, the proposed terminal for the Kuala Lumpur to Singapore line.
The announcement came three months after CREC's successful bid with its Malaysian joint-venture partner in December to acquire 60 percent of the equity in the Bandar Malaysia project.
On the railway bid, China is facing competitors from Japan, South Korea, France and several other countries.
One of the advantages of the Chinese side is the experience of working with Malaysia on the latter's regular railway system and light rail transit projects, according to the Star.
Chinese companies have supplied about 75 to 80 percent of the locomotives and coaches and related equipment to Malaysia.
China Railway Rolling Stock Corporation (CRRC) has built a manufacturing center for Southeast Asia in Malaysia.
Despite being a late comer in high-speed railway, China has developed the most cost-effective rail system in the world, thanks to China's research and development on major train projects and super lengthy tracks, said Goh Bok Yen, a well-known transportation planning consultant.
However, Goh told the newspaper that it was far from a done deal as the project remains in an early stage.
The governments of Malaysia and Singapore are expected to finalize the commercial model and procurement approach of the project by this year.