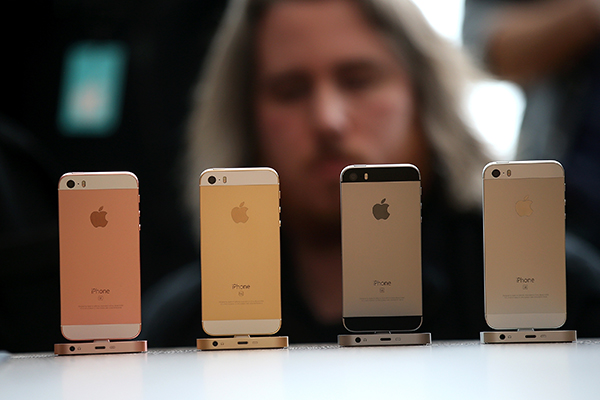 An attendee looks at the new iPhone SE during an event at the Apple headquarters in Cupertino, California. [Photo/Agencies]
Apple Inc launched a smaller-screen iPhone on Tuesday Beijing time, hoping its low price tag and top-performing features can reinvigorate sales in key markets such as China and India.
This is the US company's latest effort to enter the crowded mid-tier market where its Chinese rivals are steadily expanding their presence with affordable high-quality gadgets.
The iPhone SE, equipped with a four-inch screen, is essentially a smaller version of the iPhone 6S. Starting at $399, the new phone has full support for Apple Pay and the Siri voice-enabled assistant. It is powered by the A9 processor that also runs the larger iPhone 6S.
Greg Joswiak, Apple vice-president of iPhone product marketing, said at the launch ceremony in Cupertino, California, that the new iPhone is aimed at consumers in emerging markets like China and India, which he said "tend to start off with a phone with a four-inch screen".
The move came after Apple said in January that its quarterly sales may see the first decline since 2003, fueled by concerns about dwindling demand for high-end smartphones.
James Yan, research director at Counterpoint Technology Market Research, said Apple is trying to boost its sales by focusing on smaller-screen handsets.
"Though the majority of consumers prefer large-screen smartphones, there is always a demand for smaller-screen gadgets. This is a profitable segment that Apple can't ignore, especially when its growth begins to slow down," Yan said.
Counterpoint said in a report that Apple sold about 30 million units of its older 4-inch-iPhones in 2015, accounting for about 13 percent of the company's entire handset sales last year.
"But I don't think iPhone SE will be pretty popular in China because consumers here regard smartphones as an important tool for entertainment where large-screen displays are preferred," he said.
China is Apple's second-biggest market, accounting for about a quarter of the company's revenue in the last quarter. But the market is nearing saturation as most people have already got a smartphone.
Apple is also facing intensified competition from local players such as Huawei Technologies Co Ltd and Xiaomi Corp.
Zhu Dalin, an analyst at Beijing-based Internet consultancy Analysys International, said the iPhone SE will have a limited impact in terms of boosting Apple's share in China's mid-end smartphone market.
"The new phone is the most cost-effective product Apple has ever unveiled, but the smaller-screen handset sector is too small in China. For the same reason, I don't think domestic companies will launch similar handsets in the future," he said.
According to an online survey by the Internet portal sina.com, by 5 pm on Tuesday, about 60 percent of 46,000 Chinese voters said they wouldn't buy iPhone SE, compared with 21 percent respondents saying they will.