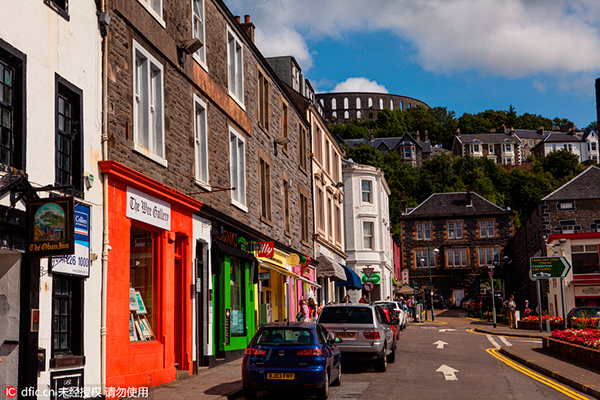 Oban, a port city in Scotland, Sept 11, 2014. [Photo/IC]
Chinese companies eye big prospects in infrastructure
China's involvement in Scotland's infrastructure projects will help improve its ground commuting system and is expected to spur local employment, industry experts said on Tuesday.
Scotland signed a memorandum of understanding on Monday with Chinese investment group SinoFortone Group and China Railway No 3 Engineering Group, the largest construction company in the world, to bring about infrastructure projects with a potential value of 10 billion pounds ($14.3 billion).
"With high-speed trains traveling at a speed of over 300 kilometers per hour, it certainly will help Scotland change the situation in which its ground commuting systems long been dominated by automobiles. And related projects can generate a large number of jobs and construction materials supplying businesses," said Luo Renjian, a researcher at the Institute of Transport Research at the National Development and Reform Commission.
Luo said that even though China is a latecomer to the field in comparison with its German and French rivals, its railway infrastructure building ability and rail equipment companies have thrived thanks to cost advantages, reasonable delivery times and flexible financing models.
The latest agreement will pave the way for significant investment in fields such as clean energy, transport and affordable housing, analysts said.
At the agreement signing ceremony, Scottish First Minister Nicola Sturgeon was joined at Bute House by Peter Zhang, the managing director of SinoFortone Group, Sir Richard Heygate, senior adviser for China Railway No 3 Engineering Group, and Chinese Consul General Pan Xinchun.
"We have been cooperating and engaging with China since 2007 and I further progressed Scotland's business credentials during my trip last year, and this Memorandum of Understanding will strengthen our economic links with China in a number of areas," Sturgeon said.
"We have high hopes for Scotland's economy and it is in a strong position, but if we can drive further growth by looking beyond our shores and building relationships with firms across the world then we will seek to make that happen."
"We are delighted to act as a bridge between Chinese infrastructure expertise and finance with Scotland, to provide a real example of the benefits of the Belt and Road Initiative in action," Zhang said.
Consul General Pan congratulated all sides on this agreement and said this project will benefit not only Chinese enterprises but also the Scottish people.
Sir Brian Souter from Souter Investments said SinoFortone's investment will be good for Scotland's economy, create jobs and enable growth.