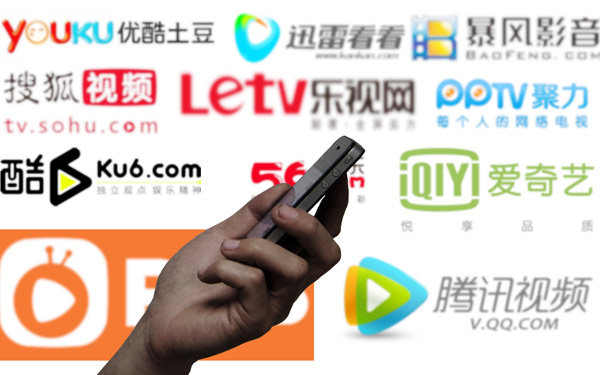 A man watches a smartphone in front of billboard advertising some Internet TV websites.[Photo/Provided to China Daily]
Competition in the Chinese smart television segment, which heated up last year, is expected to further intensify this year.
Beijing Funshion Online Technology Co Ltd, which was established in 2005 as a technology company specializing in broadcast, content search and distribution of streaming media, fired the first salvo by releasing its first smart TV model on Dec 10.
Funshion's competitors could get restless over its low prices: 1,799 yuan ($277) for a 43-inch screen model, 2,299 yuan for a 49-inch one, and 2,799 yuan for a 55-inch set.
What's more, Funshion's three models use 4K, the latest in ultra high definition or HD technology. Most smart TVs in China are priced around 5,000 yuan.
Luo Jiangchun, chief executive officer of Funshion, said the secret of such competitive prices lies in the ecosystem the company has built up with its partners like Shanghai Oriental Pearl Media Co Ltd, digital products manufacturer Shenzhen MTC Co Ltd, leading Chinese home appliance maker Haier, leading TV manufacturer Panda Electronics Group Co Ltd, and Gome Electrical Appliances Holding Ltd.
In this ecosystem, Oriental Pearl will be responsible for licensing, content and operation of Internet TV. Starting this year, the company will invest at least 1.5 billion yuan in copyrights in order to build up China's largest content platform. It aims to reach 30 million active family users within three years.
Shenzhen MTC and Panda Electronics will play to their strengths in terms of manufacturing, while upgrading their manufacturing technologies by integrating them with the Internet.
According to Beijing-based home appliances market consulting company All View Cloud, three-fourths of the 37.68 million sets of TVs sold in the first 10 months of 2015 were distributed via physical stores. That is, offline distribution channels are key to smart TV sales.
This is where Gome and Haier become integral to the ecosystem that also includes online sales channels of Funshion and discount e-retailer vip.com.
"The complete industry chain has been integrated under this ecosystem. We will enjoy the advantages of lower costs and better product quality this way. We won't rely on higher sales of TV sets for profits. This way, consumers benefit the most. They will be able to enjoy better 4K smart TVs at lower prices," said Luo.
Funshion has set an ambitious goal for itself: sale of at least 12 million smart TVs within three years. It is confident enough to promise buyers of its products that any TV set requiring repairs within six months of purchase, will be replaced with a new one instead.
According to Luo, Funshion's smart TV drive is in line with its ambition set 10 years ago, which was to take the lead in this segment. He believes smart TV is the next growth point for the home appliances industry and the next big opportunity for online content providers.
Zhang Yu, CEO of market research company Nielsen-CCData, sees in smart TV huge room for growth of industry players as it has the potential to become an indispensable part of family life.
According to statistics provided by All View Cloud, the penetration rate of 4K TVs was only 14 percent in 2014, when their sales were 6.26 million sets. In the first ten months of 2015, the penetration rate surged to 32 per cent on sales of 14.84 million sets. It is expected that the penetration rate will reach 80 percent by 2020.