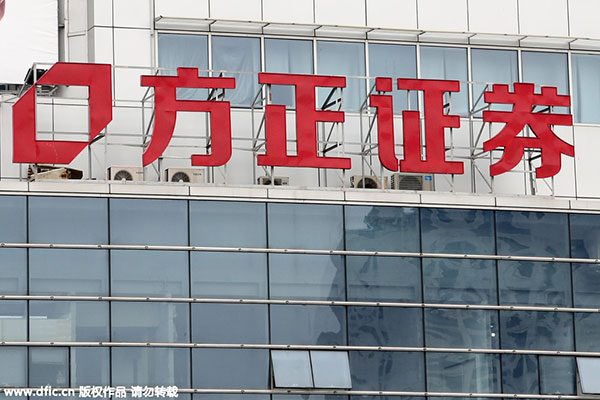 The logo of Founder Securities Co Ltd is seen in Shanghai, Feb 3, 2015. [Photo/IC]
The collective market value of 28 university-promoted companies whose stocks are A shares soared a whopping 163 percent in the last seven quarters, from 187.8 billion yuan ($28.64 billion) in March 2014 to 493.7 billion yuan on Dec 31, 2015.
And only half of the 28 enterprises now have a market value below 10 billion yuan. United Science & Technology Co Ltd, which is affiliated to Zhejiang University, has the lowest market capitalization of 5.6 billion yuan.
Twelve firms' individual market value ranges from 10 billion yuan to 50 billion yuan. The market value of two enterprises, Peking University-promoted Founder Securities Co Ltd and Tsinghua University-founded Tongfang Co Ltd, boast market value exceeding 50 billion each (79 billion yuan and 53.6 billion yuan respectively).
Remarkably, the stock price of Shandong Shida Shenghua Chemical Group Co Ltd, which runs schools under the aegis of the China University of Petroleum (East China), surged from 6.51 yuan per share on May 29, 2015 to 42.25 yuan on Dec 31, 2015. It listed on the Shanghai Stock Exchange on May 29, 2015. Its price-to-earnings ratio was 845 on Dec 31, 2015.
The earliest four university-founded companies are based in Shanghai. Tsinghua University has six holding companies under it while Peking University has four. The market value of these two groups of holding companies reached 135.8 billion yuan and 111.8 billion yuan respectively on Dec 31, 2015. The Huazhong University of Science and Technology, which is located in Wuhan, has three holding enterprises.
Most of the 28 companies are involved in high-tech areas: ten in telecommunications, five in high-end manufacturing and four in pharmaceuticals.
While their market value has risen all right, only 13 companies boast a decent average return on equity or RoE of 6 percent in the 2012-14 period, with Shandong Shanda Wit Science and Technology Co Ltd, a subsidiary of Shandong University, topping the list with 20.52 percent.
Thirteen of the 28 firms listed their stocks between 1996 and 2000. RoE of most of them has been lacklustre though. Only three of the 10 earliest listed companies have a decent RoE.
"University-linked listed companies have a sound foundation in technology, but are weak in marketing and management. So, they are unable to make big profits," Li Kai, an analyst with Changjiang Securities, was quoted as saying by the Changjiang Business Daily.
Since 2006, 17 university-linked companies exited the A-share market due to losses, low profits or poor performance.
Even now, the situation has not improved much profit-wise. At September-end last year, only 13 of the 28 companies boasted an accumulated net profit of more than 50 million yuan each, and the RoE of more than half of the enterprises was less than 4 percent, quite far from the acceptable 6 percent mark.
Only the accumulated net profit of Tsinghua Tongfang and Founder Securities, which surpassed 2 billion yuan from 2012 to 2014, stands out. So do the sharp losses of PKU HealthCare Corp Ltd and Harbin Gong Da High-tech Enterprise Development Co Ltd from 2014.
The 28 companies' market value is clearly unrealistic and may be linked to the popularity, strong community relations and high level of resources of universities that founded them, said economist Song Qinghui.
But, given China's emphasis on technological innovation in the 13th Five Year Plan (2016-2020) and the reform of the initial public offering system, more tech-savvy universities will likely found companies and list them in the years to come, experts said.
Market value of listed university-linked firms:
1.Peking University (four companies-total market value: 111.8 billion yuan)
China Hi-Tech Group Co Ltd-10.2 billion yuan
Founder Securities Co Ltd-79 billion yuan
Founder Technology Group Co Ltd-13.6 billion yuan
PKU HealthCare Corp Ltd-9 billion yuan
2.Tsinghua University (six companies-total market value: 135.8 billion yuan)
Tellhow Sci-tech Co Ltd-9.7 billion yuan
Chengzhi Shareholding Co Ltd-9.9 billion yuan
Tongfang Co Ltd-53.6 billion yuan
Tongfang Guoxin Electronics Co Ltd-36.5 billion yuan
Unisplendour Corp Ltd-20.3 billion yuan
Unisplendour Guhan Group Co Ltd-5.8 billion yuan
3.The Chinese Academy of Sciences (two companies-total market value: 42.2 billion yuan)
Beijing Zhong Ke San Huan Hi-tech Co Ltd-14.9 billion yuan
Sugon Information Industry Co Ltd-27.3 billion yuan