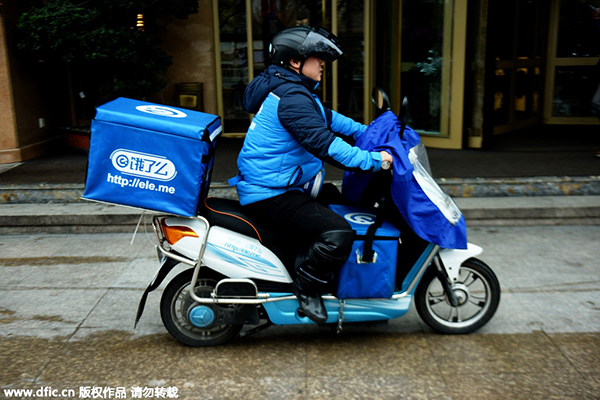 A deliveryman of ele.me, which can be directly translated into "Hungry?" [Photo/China Daily]
After pouring billions of dollars into a wide cross section of industries, e-commerce conglomerate Alibaba Group Holding Ltd has developed a hunger for online food delivery services.
The Hangzhou-based Alibaba plans to invest $1.25 billion in food delivery application ele.me, said a report published in leading business news site caixin.com on Friday.
The report citing anonymous sources said that Alibaba will obtain a 27.7 percent stake in ele.me, becoming the Shanghai-based app's biggest shareholder.
Ele.me, which can be directly translated into "Hungry?", is expected to help Alibaba gain a stronger foothold in China's booming online-to-offline market, especially when it comes to the fight in the food delivery sector against Internet giants Tencent Holdings Ltd and Baidu Inc.
Alibaba, which initially invested in Meituan, an online coupon site with food delivery business, has seen its stake in the company drop to a single digit after Meituan merged with its former competitor Dianping in October.
"Alibaba always makes investment to take control. It makes a lot of sense for it to invest in ele.me," said Lu Zhenwang, an Internet expert and the chief executive officer of the Shanghai-based Wanqing Consultancy.
He said the O2O food sector has become the latest battlefield for China's Internet trio. "Baidu is equipped with online food coupon site Nuomi and delivery app Baidu Takeout. Tencent can offer similar services via the newly merged Meituan and Dianping-online coupon and restaurant review apps, and Meituan Takeout,"
"With the latest investment, Alibaba has online food coupon site Koubei and food delivery app ele.me, " he said.
Ele.me, which was launched in 2009, ranked the second in October in terms of the number of users among all the door-to-door online-to-offline apps, which include services like car-hailing, food delivery and house cleaning.
In the report released by TalkingData, a third-party app research company, Tencent-backed Meituan Takeout ranked the third and Baidu Takeout ranked sixth.
China's food delivery app market has seen rapid growth since late 2014 with service providers offering massive discounts to lure users. The cutthroat subsidy competition has burned billions of yuan from players.
"With Alibaba's investment, ele.me will have more cash to compete. But I doubt a cash-burning competition is a sustainable way for growth," said Lu.
However, Internet giants are still betting on the sector's growth potential. A recent report from iResearch Consultancy Group showed that apps only accounted for 6 percent of China's 160 billion yuan ($24.7 billion) food takeout market in 2014.
Sometimes, when it is difficult to foresee the future trends, it makes more sense to make friends with investments.
Pony Ma Huateng, chief executive officer of Tencent, said during the World Internet Conference in mid-December, that Internet companies are mushrooming in several verticals, such as healthcare, education and tourism.