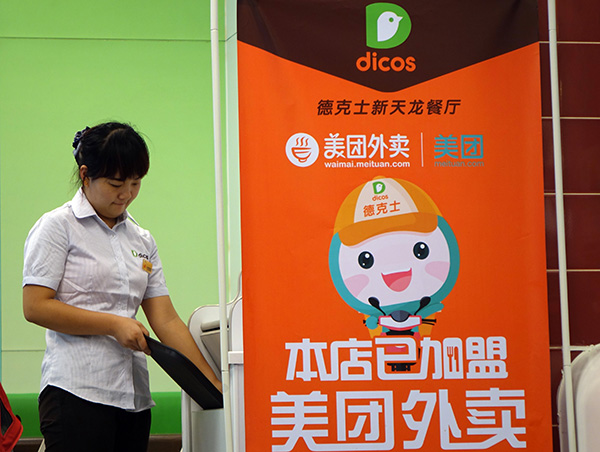 An employee at a Dicos outlet, a Western-style fast-food chain, in Zhengzhou, Henan province. The food chain has teamed up with Meituan, a group-buying service promoted by e-commerce giant Alibaba Group Holding Ltd. [Photo/China Daily]
E-commerce group Alibaba is in talks to sell its stake in Meituan-Dianping, China's leading online provider of restaurant bookings, movie ticketing and other on-demand services, reported the Wall Street Journal.
Alibaba is shopping its roughly 7 percent stake in the company created by last month's merger of two rival startups namely Meituan.com and Dianping Holdings Ltd, which could be worth $1 billion, said the paper citing people familiar with the situation.
The move comes as the e-commerce giant seeks to focus on the Koubei platform that it launched in June with Ant Financial, its payment affiliate, and take on Baidu and Tencent in online to offline (O2O) service.
Koubei, with an initial investment of 6 billion yuan ($939.34 million), aims to be a local life and service platform and to integrate the company's online strength with its offline resources, as Alipay is becoming more commonly used in places including restaurants, supermarkets, hospitals and airports.