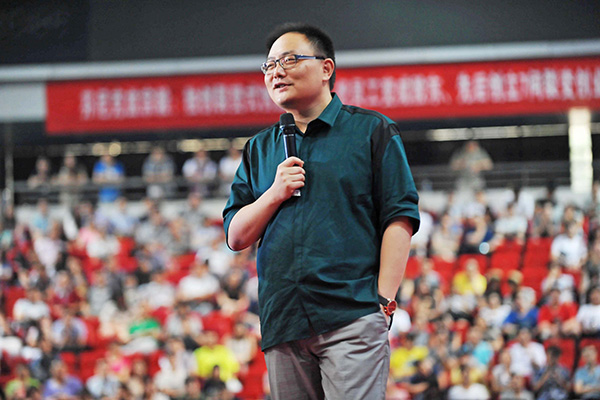 Luo Zhenyu gives a speech at the Huazhong University of Science and Technology in June last year. Luo started his Luogic Show in late 2013 and its revenue is expected to reach 150 million yuan this year. [Photo provided to China Daily]
Among the public accounts on WeChat-they are my bedtime reading-Lady Pomegranate's Report is one of my favorites.
Run by Cheng Yan, a former fashion editor, it focuses on high-end fashion brands, street trends and gossip about celebrities. Each piece of content has some kind of subliminal advertising.
I don't mind it as long as I get the information I need and such ads don't annoy. It has been running for two and a half years, and has cultivated 1 million followers, averaging around 200,000 hits daily.
Unconfirmed Chinese media reports said it earned 5 million yuan ($788,500) in ad revenue last year, largely from fashion brands. That's big money, compared with what a fashion editor in China might earn.
Individual public accounts on WeChat are similar to multimedia magazines. Only, they are owned and published by individuals. They earn money from advertisers if they are very popular, and from readers who wish to appreciate good content by offering some money online directly to the publishers.
It is not easy for the likes of Cheng to succeed. She has a passion for fashion, and is a hardworking "WeChatter" (she updates the Report with at least one new piece every day).
She is also smart. She knows young Chinese receive like street snaps of international stars, and would also like to share/read about personal shopping and dressing experiences.
This type of content lends itself to product promotion. Cheng feeds the reader with what they like, ensures top-quality content, and communicates directly with her readers.
The success of such content, the flexible work hours of freelancers and low entry barriers are making some people rush into this field. Tencent Holding Ltd said public accounts on its WeChat exceeded 12 million by September-end. Around 70 percent of them are run by individuals. But many of them have become "corpses" for want of regular updates.
A friend of mine, the mother of a five-year-old boy, used to work for a business newspaper. She wanted to do stories she was really interested in. She wanted flexible work hours to balance her family life.
So, she quit her job and opened a WeChat public account in April. Her focus was on how to help young people travel around. She offered itinerary design, tour guidance and parenting tips.
Six months later, she complained to me that she has been working "like a dog". She was polishing ad-like copy and peddling it as mainstream editorial content, making sure it appealed to readers and attracted page views, so she could negotiate with business partners.