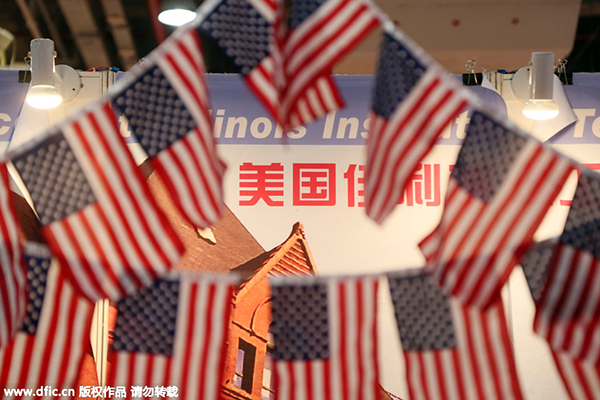 View of the exhibition area for US during the 2014 China International Education Exhibition in Shanghai, China, Nov 1, 2014. [Photo/IC]
Chinese students in the United States are getting an earlier start.
In the 1970s, a typical Chinese student in the US was there for a master's or doctoral degree. They were then followed by students pursuing undergraduate degrees.
Now, Chinese are the largest international group in US kindergarten-through-12th grade, or K-12, programs of study.
November statistics show that 34,578 Chinese students were studying in primary and secondary schools in the US, or 52 percent of all international students there.
Five years ago, the number was 8,857, according to The Wall Street Journal. It cited statistics from the Student and Exchange Visitor Program, a Department of Homeland Security unit that tracks foreigners in the US on student visas and the schools they attend.
At The Brook Hill School in Bullard, Texas, the number of Chinese students grew from six to 20 in the past six years, the maximum allowed from one foreign nation.
When Tang Weite first arrived at the school in 2009, the 18-year-old found that South Koreans were the dominant group at their boarding house.
Shawn Rhodes, director of residence life, said, "That trend shifted to China, as China has increased in affluence and prosperity."
Ma Shuheng, a senior at the pre-K-12 day and boarding Christian school near Dallas, said: "Not only the number is increasing. The standard (for admission) is higher, too."
He said that when he first applied in 2012, there was hardly any barrier to entry.
"Now, most students who get in have a 90-plus TOEFL score," he added, referring to the Test of English as a Foreign Language.
One of the reasons for many Chinese students studying in US schools is to escape the gaokao, China's national entrance examination, and the fierce competition that comes with it.
The other motivation is to get prepared for US colleges.