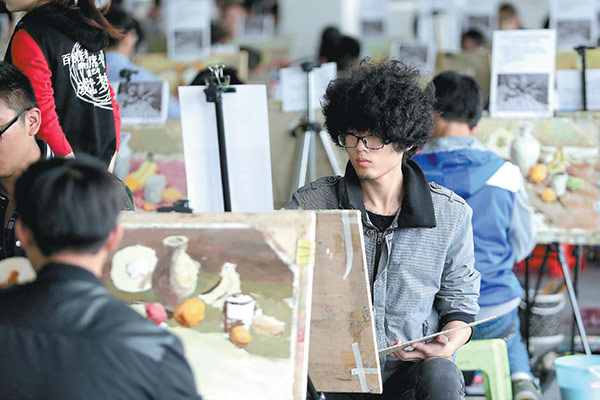 Students take part in art and design exams at an educational institution in Nanjing, capital of Jiangsu province.[XU QI/FOR CHINA DAILY]
After-school tuition and cramming classes have become a business which will be worth 1 trillion yuan by 2018
Xu Liping is an accountant at a hospital in Shanghai and wants only the best for her daughter when it comes to education. But the "best" can be expensive.
The 38-year-old did not hesitate to fork out 1,200 yuan ($187) for a two-hour English-language cramming course for Wang Jingxuan, who is just 12.
She will sit the junior high school entrance exam next year and Xu is desperate to make sure her daughter comes through with flying colors.
What did surprise her, however, was the cost, even though the after-school private tutor had an excellent reputation and was employed at a well established school.
"I can totally understand why young people today do not want to have a second child even though the policy has now been loosened," Xu said. "Education costs so much.
"Of course, there is always the choice of not letting your child attend cramming classes, but education is crucial. Nearly all the children at her school take cramming courses," she added.
Extra tuition classes have become extremely popular as parents pay for cramming sessions to help their children attain high marks in exams and gain a place at highly regarded schools.
The market has grown so rapidly that it is expected to be worth 1 trillion yuan by 2018, according to the Beijing Academy of People Education Information Sciences.
Two major after-school tuition companies based in Beijing, TAL Education Group and Xueda Education Group, are now listed in the United States.
TAL Education caters for students from kindergarten through to 12th grade (K12) and went public on the New York Stock Exchange in 2010.
The company reported net revenue of $173.3 million for the second fiscal quarter that ended on Aug 31, 2015, an increase of 41.6 percent compared to the same period last year.