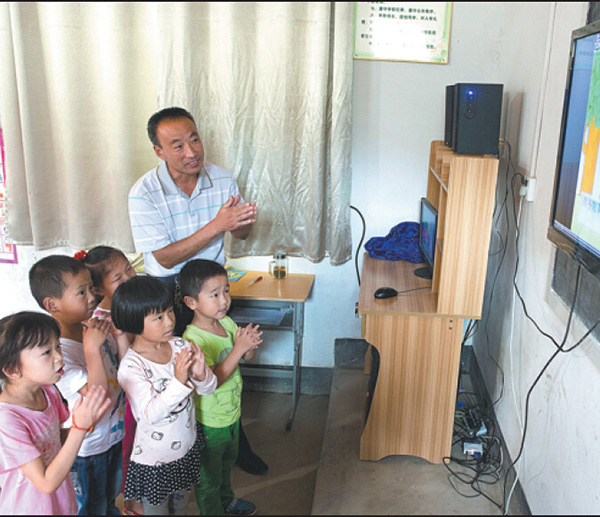 Students in a remote village in Anhui province learn dancing and singing via online education programs. [Photo/Xinhua]
Online education has been developing rapidly in China in the past few years, with both the number of programs and the amount of financing growing at a high speed, a blue book has reported.
The number of educational science and technology enterprises has been growing at 50 percent since 2013, a year dubbed by sources in the Chinese education industry as the first year of the online education era, according to the Blue Book on the Current Situation in China's Educational Science and Technology which was released in early December.
Compiled jointly by online education media jiemodui.com, Baidu, Alibaba and Tencent as well as WaleyWorks Career Center, a company that provides services to job seekers and businesses, the blue book said the number of online education programs has surpassed 3,000 as of September. By November, financing in China's online education rocketed to $1.76 billion in total.
Mei Chujiu, founder and editor-in-chief of jiemodui.com, said China's online education is experiencing a boom.
"Education in China used to be divided strictly into two independent parts-education in the public school system and private tutoring out of schools, which operated separately and seldom integrated with each other," Mei said.
But the barrier between the two parts has been broken since 2013, two years after top education authorities announced a 10-year plan to popularize the use of information, communication and technology (ICT) in the field of education nationwide, she said, adding that the use of ICT is bringing the two parts together.
"We know that online education in South Korea is quite advanced among Asian countries, which is a result of a 10-year ICT plan the country implemented from the ground level," Mei said.
"China is now going through a similar process."
Liu Ying, director of the Test and Evaluation Research Institute under ATA, a company that provides test and evaluation services in China, said education in China is at a turning point and reform is needed, and the Internet will play a key role to achieve that.
"One direction of reform is to help students improve learning efficiency and effect," Liu said.
"And thanks to the convenience and the big data brought by the Internet, we are more able to help students to achieve these goals, deploying tools and techniques including a self-adaptive test system, individual knowledge graph and big-data analysis."
Popular online education programs
NetEase Open Class
A major online course platform developed by NetEase, a leading Chinese Internet company listed on NASDAQ, it contains open classes of universities in China and abroad. The classes cover a lot of fields including science, humanities and social science, arts and finance.
Hujiang Internet School
This online course platform, developed by hujiang.com in 2001, contains courses on a range of subjects for people of different ages. According to the website, it now has more than 90 million registered users. In recent years, with the emergence of mobile Internet technology, Hujiang has also developed some mobile learning products.
17zuoye.com
This Internet-based K12 homework platform was launched by a technology company in Shanghai in 2011. Combining English and math textbook content for primary and middle schools, it enables teachers to assign homework, students to do homework and parents to check feedback on the same platform. It also provides teaching tools as well as analysis of a student's academic performance. Meanwhile, it can also send diversified learning content depending on the specific need of each student.
Homework Help
This application was developed by Baidu for primary- and middle-school students to communicate with each other on homework questions. When students encounter difficult question while doing homework, they can take photos of the questions and upload the photos to the app to discuss with peers all over the country. The number of users reached 50 million in August.