The World Internet Conference in the river town of Wuzhen in East China's Zhejiang province has aroused public interest about the status of the country's Internet development. Cyberspace management, Internet innovation and development were hot topics during the conference. China Daily invited five renowned Internet experts to share their views about the future.
Q1 What is the top priority, or most urgent problem, facing those managing the Internet in China?
Q2 Do you have any solutions to the problem?
Q3 How should China react when Western countries blame it for major cyberattacks?
Q4 Could you provide a blueprint for the development of Chinese cyberspace over the next five years?
A1 There are two major problems for China in governing its Internet. First, it must enrich the Internet culture, making online products and services that are closer to people's daily lives. Second, it must improve security infrastructure, strengthening the protection of information and core technology. Letting the Internet develop faster and safer is the priority.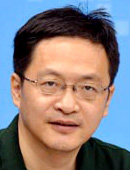 Li Yuxiao, Chief of Internet Management and Law Research Center at Beijing University of Posts and Telecommunications 
A2 I'd like to see our government take measures to solve the problems mentioned above. The central leadership has a clear strategy to develop the Internet, but specific policies and the ways to carry them out are still pending. It is effective to encourage more Internet enterprises, not only bigger ones, to enhance industry innovation and develop more applications to serve people's lives.
A3 The current accusation from Western countries that China is a big attacker in cyberspace, I think, is partial and unilateral. We have to say that innovation and most Internet resources are from some developed countries. In other words, they have more advantages in governing cyberspace in the world. But it does not mean we have no voice. Instead, we have a right, as the country with the most netizens, to make the international rules of cyberspace governance. The establishment of rules is just a start. What's more, we should also make ourselves stronger in innovation and security protection.
A4 China's Internet will become more prosperous over the next five years. We'll have more applications connected with traditional industries, including agriculture, and the number of small and innovative Internet companies will be booming, leading to new ideas, products and services. Internet cultures are going to be more diversified and will be broadcast all over the world by advanced network technology, improving China's international image and presenting the country's soft power. At the same time, the problem of online threats will still be serious, which requires us to quickly protect our core technology and security.