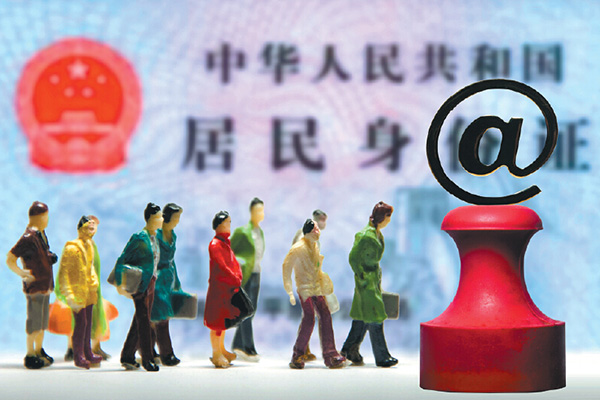 More detailed regulations for an online real-name system are required to help protect users' privacy. [Photo/CFP]

Registering users' actual names is a big step forward for China, but a new law is needed to safeguard privacy, experts tell Ma Si and Cao Yin.
Legislation will be essential to safeguarding users' private information on the Internet, as China is promoting a nationwide online real-name system, experts said.
Requiring users to register online accounts with their real names can help stem rumors, violence and other cyber crimes, but a more detailed law is needed to help protect users' privacy, according to experts.
Wang Sixin, a law professor at Communication University of China, said specifying Web operators' responsibilities in a new law is the most effective way to prevent the leakage of personal information.
"In August, an amendment to the criminal law was passed, saying compromising user data is a crime," he said. "This marks big progress, highlighting the country's growing awareness of protecting privacy."
The new amendment stipulates that online service providers will be fined and/or sentenced to less-than-three-year imprisonment or criminal detention if they are caught leaking or selling user data.
Wang said it is not enough because the amendment did not take into account more complicated scenarios such as users' information being abused without the online operators' knowledge.
"A new law is needed to tackle all privacy-related problems and comprehensively protect users' privacy," Wang added.
As big-data technology is sweeping across China, he also said it is of great importance to clearly define who is entitled to own the commercial value generated from users' data and what kinds of user information can be made public or monetized and which parts can not.
In recent years, China has been asking Web users to register their real names and their national identification numbers with Internet companies before opening accounts on microblog platforms, instant messaging tools and telecom carriers.
In 2014, WeChat, the most popular instant-messaging platform, which is run by Tencent, saw over 80 percent of its 500 million users register with their real names, data from the Cyberspace Administration of China shows. Tencent has also been pushing older users to use their real identities.
But the policy has triggered concerns that personal information stored on commercial websites' servers will be exposed to theft and abuse, given the frequent information-leak scandals recently.
A report released in July by the Internet Society of China shows that over 78 percent of Chinese netizens reported their personal information had once been stolen, including names and home addresses. Such information leaks resulted in losses of 80.5 billion yuan ($12.6 billion) last year.
Yin Libo, chief engineer at the Electronic Technology Intelligence Research Institute under the Ministry of Industry and Information Technology, said an online real-name system will not necessarily entail the leakage of personal data if laws clarify Web companies' duties and rights. "The clearer the accountability for Web operators, the more effectively information leaks can be prevented," said Yin.
Shen Yang, a professor with Wuhan University, said a nationwide real-name system adds to the workload of Internet companies and has led to complaints from netizens, but if the policy is properly carried out, it does more good than harm to the development of the Internet.