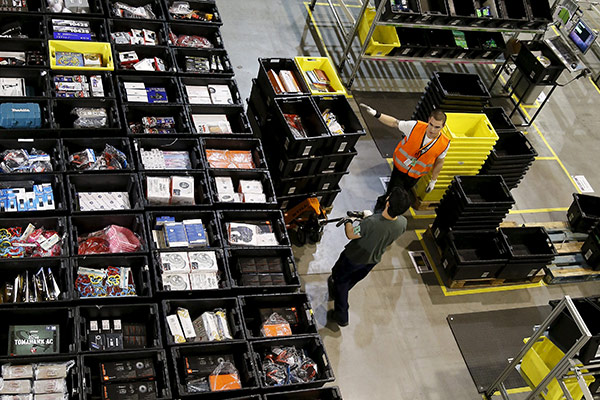 Warehouse floor assistants handle merchandise on Black Friday at an Amazon fulfillment center in Madrid, Spain.[Photo/Agencies]
Local companies use Amazon to graduate from plugs, chargers to furniture, scooters
Amazon.com Inc has promised to continue expanding and improving the services it offers to its China-based sellers, who saw sales increase by about 1.5 times year-on-year to North America and Japan during last week's Black Friday retail promotion.
Since the launch of its Amazon Global Selling platform in 2012, which enables third-party merchants to export their products and build their brands globally, Amazon's Vice-President Eric Broussard said its number of China-based sellers has grown 13 times-an expansion rate which he expects to continue.
"We are going to continue developing the Amazon Global Selling business because there are a lot of manufacturers, designers and inventors in China still not selling globally, meaning there is huge potential," Broussard said during a summit held for Chinese sellers in Guangzhou, Guangdong province, on Thursday.
Despite the downward pressure on China's foreign trade, the country's cross-border e-commerce sector is booming.
According to China E-business Research Center, in the first half of 2015 cross-border e-commerce volume hit 2 trillion yuan ($312 billion), a 42.8 percent year-on-year growth.
David Yeh, vice-president of Amazon China, said its own cross-border e-commerce saw "even bigger growth" during the same period.
Exports accounted for 85 percent of China's cross-border e-commerce during the first half of this year, underlining the company's confidence in expanding the Global Selling business, said Yeh.
To help its Chinese sellers, Chinese-language platforms were launched on Amazon.com and Amazon.co.uk in July, for instance, and the initiative will be expanded to Germany and Japan in 2016.
A business-to-business section will also be launched soon next year specializing in Chinese sales to small and medium-sized enterprises in the US and in Europe.
And to better protect the intellectual property rights of its Chinese sellers, the company now offers brand registration in 10 marketplaces.
Yeh said there are two significant changes in the way Chinese sellers are now operating on the platform in the three years since its launch.
"First, Chinese sellers are providing a greater variety of products.
"They used to sell mainly simple electronic gadgets such as plugs and chargers, but now they sell everything from furniture to electric scooters," he said, adding the latter was Amazon's bestseller in second half of this year.
"Second, they are selling more of their own-branded products, and investing more in R&D."
One of the greatest successes this year was Bluedio, a bluetooth headset brand created by Guangzhou Liwei Electronics Co Ltd.
It was the third-largest third-party seller of electronic products during the Amazon Prime Day promotion in July, a shopping event to celebrate the company's 20th anniversary.
The headset was launched in 2009 but had difficulty establishing a name for itself domestically.