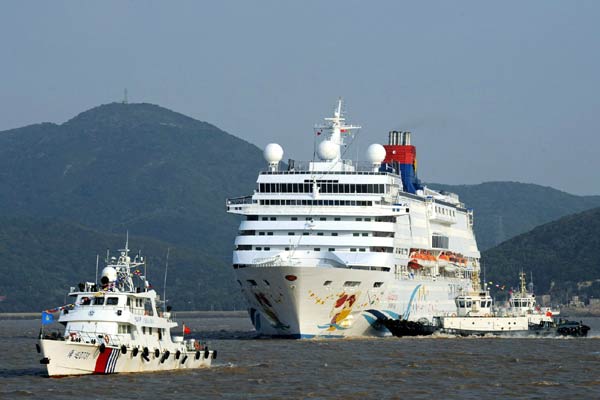 The Star Aquarius from Taiwan approaches the new cruise port at Zhoushan on Oct 13, 2014.[Photo provided to China Daily]
Construction of the country's first luxury cruise ship is expected to start in 2017 and take three years, a senior executive from Shanghai Waigaoqiao Shipbuilding Co Ltd, the company building the vessel, said on Wednesday.
"We are already in negotiation with Italian shipbuilder Fincantieri SpA, which will provide technical support, and if everything goes smoothly, design work on the ship will start soon, building will kick off in 2017, and it will be delivered by 2020," said Chen Jun, vice-president of Waigaoqiao Shipbuilding, which is controlled by China State Shipbuilding Corp.
A 2.6 billion pound ($3.88 billion) agreement was signed in October between CSSC, China Investment Corp and Carnival Corporation & Plc, the world's largest cruise operator.
The three parties will set up a joint-venture operation based in Hong Kong, and it would place orders with Waigaoqiao Shipbuilding.
China is witnessing unprecedented growth in the cruise industry, which is forecast to become the world's largest market.
"As many as 4.5million Chinese passengers will go on cruise trips by 2020, and that figure will soar to 17.5 million by 2030," said Chen.
"It is estimated that there will be an annual demand for five new cruise ships in the next 15 to 20 years in China alone."
Maurizio Cergol, a cruise ship designer from Fincantieri, said last year 1.4million Asians took a cruise, of which 700,000 passengers were from the Chinese mainland.
The first Chinese liner will cost $1 billion. It will be 300 meters in length, 140,000 tons in weight, and 14-15 stories in height, with a capacity of 3,000 to 4,000 people.
Its design will be a combination of both Chinese style and Western taste for meeting the different needs of Chinese passengers, said Chen.
Construction of the world's largest luxury cruise ships has largely been dominated by Italy, Germany and France, with around 200 large-sized vessels in operation across the globe.
Industry figures, however, suggest that while eight large cruise ships are being launched annually, the demand is currently at around 13 ships.
In the first 10months of this year, Chinese shipyards received orders for 20.38 million deadweight tonnage, a plunge of 62.1 percent from a year earlier, the China Association of the National Shipbuilding Industry said.
Chen said the declining orders and fierce competition had put huge pressure on domestic shipbuilders, and that the growing luxury cruise ship market could provide a welcome boost to the industry.
"I am sure there are quite a few Chinese shipbuilders interested in building cruise ships-but they have to think twice before making such a decision, because the standards and requirements for building luxury vessels are very high," said Chen.
Cergol from Fincantieri cautioned, too, that building a luxury vessel demands many different technologies and skills.