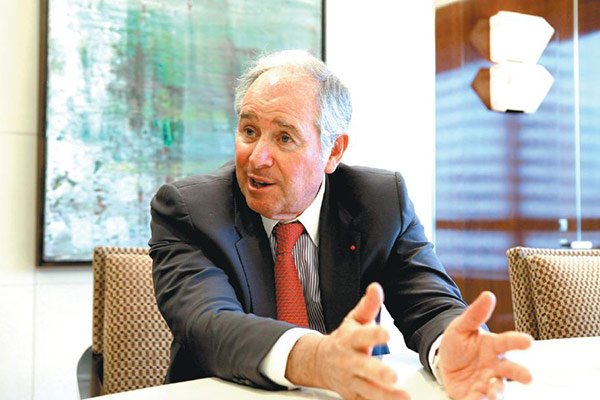 Stephen Schwarzman, CEO and co-founder of the Blackstone Group.[Provided to China Daily]
Blackstone chief sets up multi-million dollar scholarship program in Beijing
Here comes the million-dollar question: How does one find reliable information for investment decisions in China?
Stephen Schwarzman, CEO and co-founder of the Blackstone Group, one of the leading investment firms of the world, has got it easy, because he found that the Chinese, much like the Americans, are quite open.
"They tell you what's going on, or at least what they think is going on, and so, you need to talk to a variety of different people to get a consensus," he said. But he warned: "It's a bit like an adventure to learn, because no one person knows everything."
To help future leaders to have a deeper understanding about the world's second-largest economy, Schwarzman is setting up an eponymous one-year scholarship program at Tsinghua University in Beijing.
He has personally contributed $100 million to the program and is leading a fund raising campaign to raise an additional $300 million from private sources as endowments for the master's degree program.
The program has received more than 3,000 applications for its first class of 100 next year, which will include approximately 45 Americans, 20 Chinese and 35 students from across the world.
In an interview with China Daily, Schwarzman spoke about the outlook for the Chinese economy, his company's business and his school project in China. The following are edited excerpts of the interview.
How does China figure in Blackstone's picture?
Blackstone is the largest money manager in the alternative investment are a operating in China. The country is very important to Blackstone. China is the future. Even though some people wonder how much it is growing, it is still much faster than the developed world.
Things change so rapidly in China; nothing remains the same. So for us to be effective in the rest of the world, it is essential to know what's going on in China.
What do you think about China's economic slowdown?
Every body worries about an economic slowdown from the top levels of the Chinese government to the business community to the IMF to the World Bank to the head of almost every country in the world worries about China's economic health because it is the second-biggest country in the world, and it is the fastest growing of the emerging markets with the exception of India, which is probably is growing a little bit faster.
So, all of us are concerned about China's growth. It's an area of enormous focus and fixation because no one knows exactly what's happening with in China.
I think China will not have a hard landing. I think China will continue outperforming certainly any other developed country. Some sectors will grow fast, some won't grow at all, and a few will go down. You have to have a balanced view of what will happen.