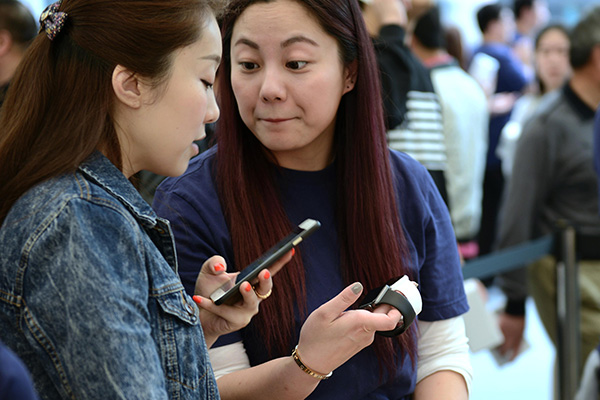 Two women try to make their Apple watches compatible with an iPhone 6 plus at an Apple store in Hangzhou, Zhejiang province. [Photo/China Daily] 
China witnesses rising fascination for smart watches and bands as consumers snap up latest must-have items
Guo Wanting was ecstatic when he heard that Apple Inc would release its smartwatch in China.
The 33-year-old automotive engineer in Shanghai has always been a bit of a "tech geek" and could not wait to get his hands on the latest must-have gadget.
"I went online and immediately placed an order for the watch," he recalled, buying the cheapest model at $349. "Once it arrived, I immediately showed it off to my friends on WeChat."
Guo's story is not unique as China is being swept by a passion for wearable smart bands and watches. Naturally, the major international players are muscling in.
At the top of the scale is the Apple Watch, which was rolled out in April. Prices range from $349 to $17,000 for the limited edition model of 18-karat gold.
The Moto 360, which was unveiled by Lenovo Group Ltd, the multinational Chinese technology company, is considerably cheaper at $249. It is the first smartwatch available in China which runs on Google's Android Wear operating system. Down at the bottom of the market, Jawbone Inc, a world leader in consumer technology and wearable devices in the United States, launched a smart wristband here as early as 2013.
Last year, Garmin Corp, which is well known for outdoor electronic products and is based in Taiwan, also released a smart wristband along with market leader Fitbit Inc.
But then the market for wearable devices is expanding rapidly. By late July, technology company Xiaomi Corp in Beijing announced it had sold more than 6 million smart wristbands since they first appeared in Chinese stores last year.
"Because of the advancement of Internet accessibility, wearable tech has expanded to everyday consumers through continuous innovation," Oliver Rust, managing director of Nielsen China, a leading information company, said.
This has prompted Huawei Technologies Co Ltd to jump on the bandwagon. The Chinese technology company has signed a deal with Jawbone to integrate its "health and fitness application" into a wide range of Huawei wearable devices.
Even online platform WeChat, which is part of Internet heavyweight company Tencent Holdings Ltd, has developed a single, centralized operating system for smart bands and watches.
After starting in the health and fitness sector, WeChat plans to "connect everything eventually". Already in first-tier cities such as Beijing, consumers can even use a basic wearable "tracker" device, or Shuashua Bands, as a "payment swipe card" for public transport.
"Wearable tech is being designed to give consumers a more personal experience," Rust said.