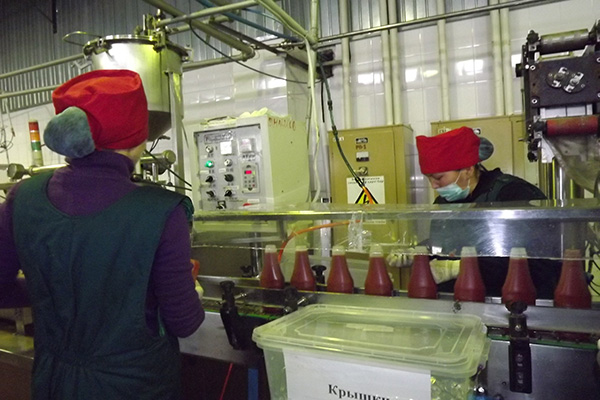 Kazakhstan workers on a tomato paste production line at a TsinKaz Ltd's workshop in Almaty, Kazakhstan. The company's tomato products are sold across Central Asia. [Photo/China daily]
Chinese-owned firm expands into Central Asia after setting up a canned food business in Kazakhstan
Setting up a canned food business might be considered a risky venture. Rolling it out in Kazakhstan could have been downright foolhardy.
But that was exactly what Chen Qigang did when he launched TsinKaz Ltd, a company that specializes in tinned tomatoes and vegetables.
After graduating from Xinjiang Agricultural University with a degree in agricultural economic management, he knew his onions from his potatoes and used that knowledge to build a thriving overseas business operation.
"The production of tomato sauces in China is mainly focused in the Xinjiang Uygur autonomous region where I was born," Chen, 45, who is the company chairman, said.
"About 90 percent of Chinese tomato sauces and products are exported overseas, including Europe, Africa and Asia. Since Xinjiang borders on Kazakhstan, I realized we could enjoy a unique geographical advantage in developing tomato-based products."
In 1998, he launched his privately owned company in Almaty of Kazakhstan with a $3.76 million business loan. Back then, he employed around 50 staff. Now he has 134 employees at his plant and TsinKaz dominates the sector for canned tomatoes and vegetables.
Already Chen is expanding into other Central Asian countries as well as using Kazakhstan as a gateway to sell his products to the lucrative European markets.
"We are the largest enterprise engaged in tomato products and canned vegetables in Central Asia," he said. "We are constantly expanding."
Chen's decision to move into Kazakhstan, which is the largest country in Central Asia with the highest GDP per capita and a population of more than 17 million, has turned out to be a masterstroke. His company's products can now be found in neighboring nations such as Kyrgyzstan, Uzbekistan, Turkmenistan and Tajikistan.
Last year, TsinKaz reported that export orders of tinned fruit and vegetables to Central Asian countries topped 80 million cans. Revenue was 210 million yuan, an increase of about 50 percent compared with 2011, while sales in Kazakhstan were 100,000 tons of canned goods.
"The food industry in Kazakhstan takes up more than 50 percent of total consumer spending," Chen said. "So, there are great opportunities there.
"Also, when we arrived the local processed food products failed to satisfy the needs of customers. Imported products accounted for 25 percent to 30 percent. This meant there was room for the market to grow."
All the products used by TsinKaz are imported from Xinjiang, but since the company is based in Almaty it enjoys tax breaks and tariff-free charges.