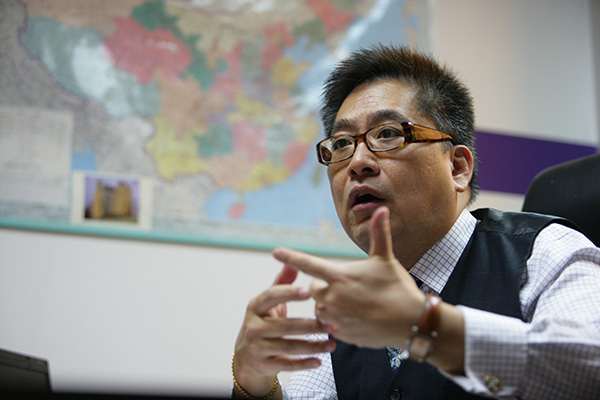 Eddy Chan, head of FedEx Corp's China operation and senior vicepresident of FedEx Express.[Provided to China Daily]
Global logistics company is a pioneer in China and still evolves to cope with slowdown in the economy
Eddy Chan fell in love with FedEx Corp after reading about the global logistics company in a magazine he picked up in the library at the University of Hong Kong.
Back in the mid-1980s, he was working toward a degree in history when he noticed that FedEx used aircraft as part of the delivery service.
"At the time, that was really cool and I decided I had to work for them," Chan, who is now 54 and head of the company's China operation as well as senior vice-president of FedEx Express, said.
After he sent his resume, he was invited for an interview. He joined the United States-based firm in 1985 as an account executive following his graduation.
"It was like fate," Chan, who was born in Hong Kong, recalled. "Joining FedEx was definitely one of the best choices I have made in the past 30 years."
Within 10 years, he had climbed up the corporate ladder and was general manager of the Central Pacific region. A glittering career appeared to beckon until he decided to quit and move on in 1994.
"I felt there was no room for personal improvement, and no more challenges," he said.
But two years later, Chan returned to FedEx as general manager in Taiwan. "FedEx values everyone of its employees," he said. "We feel we are being cherished here. This is the reason that I returned and stayed with the company."
The decision has worked out on both sides. Chan's vision has helped the company to grow in China after building a solid business base here.
When other major global enterprises sat on the sidelines, FedEx moved into the country in 1984 and quickly became a pioneer.
The company was the first to set up an online system with the General Administration of Customs and the first foreign carrier to fly direct to China in 1996. An online tracking system for customers was also rolled out.
As FedEx expanded, it moved its Asia Pacific hub from the Philippines to Guangzhou in 2009. By making the switch, it cut down delivery time to within four-and-a-half hours from the hub to any other major city in the region.
Even now, the company's operation in China is still evolving by embracing "micro-multinationals". These are small startups that have "global" appeal or use online business platforms to pursue a worldwide approach.