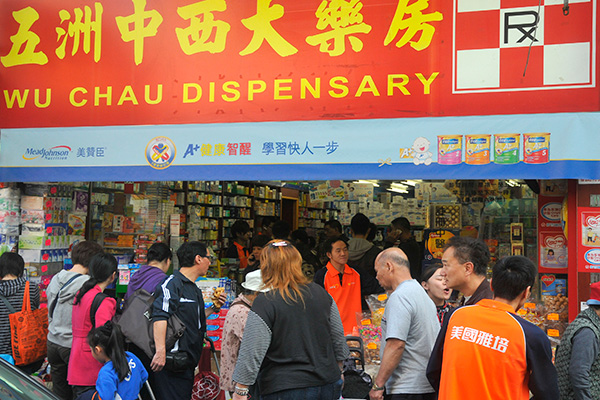 Mainland travelers in Wu Chau Dispensary in Hong Kong. The local drug stores in Hong Kong are becoming new attractions for mainland visitors. [Photo/China Daily]
The Dragon City Pharmacy has become a cult favorite for Chinese mainland visitors to Hong Kong, selling everything from medicines to mascara. Even so, the owners of this mom-and-pop business were bewildered when copycat drug stores bearing its brand began popping up across the special administrative region.
In recent years, outlets named after the 60-year-old store-but with no affiliation-have opened up alongside a slew of other tiny pharmacies in Hong Kong's prime tourist districts, minutes away from the Louis Vuitton and Chanel stores that dot the town.
Often decorated in rainbow neon lights, these smaller outlets advertise sales of tax-free medicines.
Their line-up includes muscle rubs, painkillers, aphrodisiacs and traditional Chinese medicine. But if you ask quietly, many will also sell you something else: cancer and hepatitis C drugs-no prescription necessary.
For years, Hong Kong was known as the place where Chinese mainland shoppers picked up the newest fashions from luxury retailers such as Gucci and Prada. Now, prescription drugs are also an attraction.
Treatments such as Gilead Sciences Inc's Sovaldi for hepatitis C and Roche Holding AG's breast-cancer treatment Herceptin are either unavailable or more expensive in the mainland. Many mainland visitors also prefer to buy their medicines in Hong Kong because they believe it is likely to be of better quality.
"Every time I'm here for one of my shopping trips someone or the other will ask me to bring them back some medicine. We all know Hong Kong has better-quality products," a 52-year-old woman surnamed Chen said in the Tsim Sha Tsui tourist district, where she was stocking up on make-up and shampoo.
The most urgent item on her shopping list was the liver cancer medicine Nexavar, although she didn't have a prescription. She planned to stroll around and ask for the drug made by Bayer AG in the dozens of drug stores in the area.
Chen had bought similar medicines before and it was pretty easy, she said, holding a Rhinestone encrusted iPhone in one hand while packing a wheeled suitcase with her purchases. Also on her list: a Rolex watch.
Mainland shoppers such as Chen are traveling across the border in search of cheaper drugs as changing lifestyles have put the mainland in the grip of a cancer epidemic. The World Health Organization reported that 3 million new cases are added each year. Estimates of mainland's hepatitis C population range from 13 to 44 million-among the highest in the world.
The cross-border trade in Hong Kong also highlights the problems facing the mainland's prescription drug market, which by the estimates of research firm Frost & Sullivan had total sales of 1 trillion yuan ($157 billion) last year. That is expected to double by 2019.