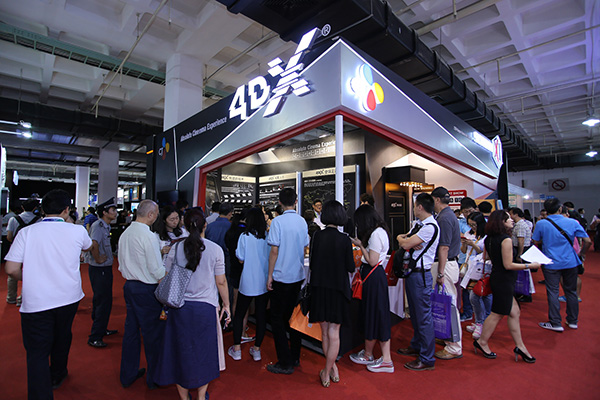 Visitors at the first 4DX theater in Hangzhou, Zhejiang province. The theater was launched by the Dalian Wanda Group and the cinema operator Dadi Digital last month. [Photo/China Daily]
Rolling and rocking chairs, artificial rain and 270-degree high-definition screens are all part of a new cinema experience for Chinese moviegoers.
As this new trend for "special effects theaters" takes off, South Korean entertainment company CJ CGV plans to expand its presence here after rolling out 4DX and ScreenX technology in the country.
The latest deal involves the Dalian Wanda Group and major cinema operator Dadi Digital that launched the first 4DX theater in Hangzhou, Zhejiang province, late last month.
"The rapid development of Chinese cinemas has created fierce competition and special technology can help them better attract moviegoers," Victor Kim, chief executive officer of CJ CGV, said.
The technology on offer is awesome. Costing up to 3.5 million yuan ($551,181), a 4DX-fitted cinema can offer the ultimate "watching experience".
The seats rock and roll during car chases and hazardous stunts. There are even special effects such as rain to simulate what is happening on screen.
Already, there are 38 4DX cinemas in China, which are part of chains run by Wanda, UME and CGV. Another 20 are to open before the end of the year. Most of the theaters are in large cities such as Beijing, Shanghai and Shenzhen.
Wanda even has plans to expand into global markets by buying out theaters in the United States and Australia and turning them into 4DX cinemas. So far, there are nearly 200 4DX theaters globally in 34 countries and regions, but the figures are growing.
Big-budget films such as Furious 7, Jurassic World, Avengers and Monkey King: Hero Is Back have been enhanced by the technology and attracted moviegoers in hordes.
By using the 4DX experience, Furious 7 attracted audiences numbering 170,000 in China and registered a seating rate of more than 45 percent. That was 30 percent higher than films screened in the traditional way.
Another big draw has been the ScreenX technology, developed by CJ CGV. This is similar to a "horizontal" version of IMAX, but gives moviegoers a panoramic 270-degree view of the film.
The technology was first unveiled at the Busan International Film Festival in South Korea two years ago for the premiere of a 30-minute spy thriller The X, directed by Kim Jee-woon. The film was commissioned to showcase the expanded three-screen format.
"The space in front of you is filled up completely," Kim told AFP news agency at the time. "It provides a new depth for viewers. The X showed off the capabilities of the format in a chase sequence and a dream sequence that seemed to envelope the cinema."
Three theaters in China have been fitted with the ScreenX technology, which involves fixing projectors to each side of the walls. "Obviously, we will try to maintain the walls but it depends on the texture," Young Choi, manager of the ScreenX creative lab at CJ CGV, said.
Just like the IMAX and 4DX technologies, Choi is convinced ScreenX will prove popular with moviegoers.
IMAX, which is named after the Canadian company that developed the process, has proved to be incredibly successful, displaying images of far greater size and resolution than conventional film systems.
China is IMAX Corp's second-largest and fastest-growing market. Box office receipts for films using IMAX increased by 50 percent, propelled by the success of Paramount Pictures' Transformers: Age of Extinction.
The Hollywood blockbuster set an opening weekend record for IMAX here by grossing $9.75 million-more than double the previous best. Last year, there were 172 IMAX theater screens in 75 cities on the mainland and that is expected to increase to 237 by 2017.