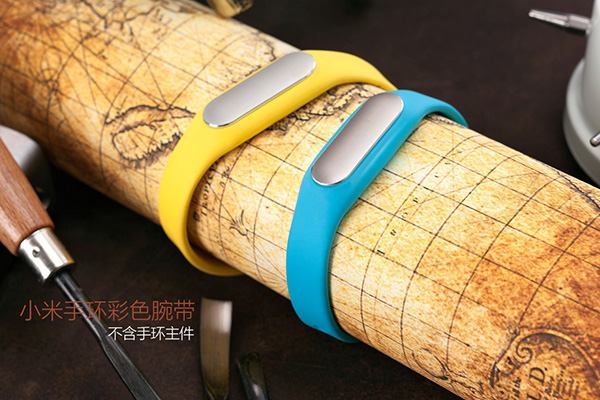 Mi Bands, Xiaomi's wearable fitness device. [File Photo]
Huami Co Ltd expects sales of its Xiaomi Mi Bands will reach 10 million in the third quarter, making it the largest maker of wearable fitness devices in the world.
Launched last year, the Mi Band monitors fitness levels and tracks sleep patterns.
Huang Wang, the founder of Huami, said he is confident that the Mi Band will overtake products made by Fitbit Inc, which is based in the United States, and is currently the world's largest manufacturer of wearable fitness brands.
The Mi Band costs 79 yuan ($13) and is the cheapest fitness device on the market. "Sales have reached six million, ranking it No 2 in the world with a market share of 24.6 percent," Huang said. "Net profit in the first quarter surpassed 10 million yuan. But we expect to do even better in the third quarter."
Fitbit, which is scheduled to make its trading debut on the New York Stock Exchange on Wednesday, sold 3.9 million units in the first three months of the year and had a global market share of 34.2 percent. Mi Band sold 1.7 million units, according to Huang.
Hefei-based Huami was established in January 2014 and was financed partly by Xiaomi Technology Co Ltd, a leading electronics and smartphone maker in China. The Mi Brand was rolled out in August last year.
In December, Banyan Capital, Sequoia Capital and Morningside Ventures injected $35 million into Huami after initial investments by Xiaomi Technology and Shunwei Capital Partners in January 2014.
Consumers in China have been quick to buy the Mi Band. "The price is much cheaper than foreign-made brands and the quality of the Mi Band is on a par with its foreign rivals," said Xu Ping, who is retired and lives in Hefei, capital city of Anhui province. "It also has multiple functions and can track my fitness and sleeping patterns."
Huami plans to expand into other intelligent wearable devices, which will help customers make instant payments, check on smart home appliances and monitor medical issues. The company already has links with Alipay, China's leading third-party online payment service.
Now, Huami is poised to announce in Beijing next month a strategic partnership with Li Ning Co Ltd, a sportswear company based in Guangdong province. This will involve putting Huami fitness-monitoring products into footwear and even badminton rackets.
A tie-up with the Midea Group, an electrical appliance manufacturer based in Shunde, Guangdong province, is also on the cards. "This would make China's home appliance products more intelligent," Huang said.
Born in 1975, Huang graduated from the University of Science and Technology of China in Hefei in 1997. He majored in microelectronics and went to work for the Shenzhen-based global technology giant Huawei Technologies Co Ltd. He returned to Hefei in 1998 to found Huaheng Electronics, which was later turned into Huami.
Zhang Xiaojun, vice-president of Huami, is bullish about the high-tech firm, which has offices in Beijing and Silicon Valley in the US.
"We have our core researchers and designers among our total workforce of around 150," Zhang said. "We also have a clear corporate vision and that will make us unbeatable."
The leisure industry will help drive future growth in the company. "In the next three to five years, we will see explosive development for intelligent wearable devices in multiple spheres," he said.
"We plan to attract top-ranking researchers and designers from around the world. This will help us grow rapidly."