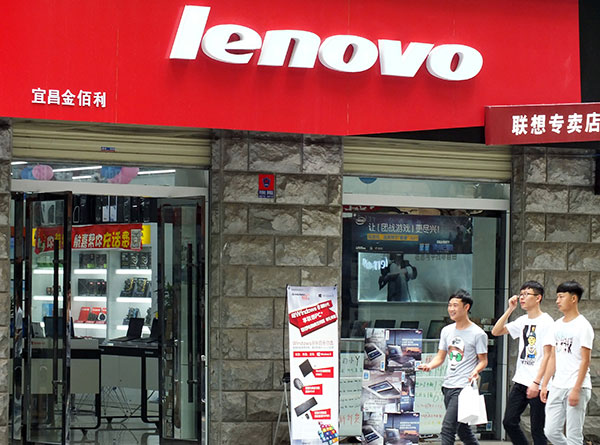 A Lenovo outlet in Yichang, Hubei province. The company announced a 51-percent year-on-year decline in net income for its first fiscal quarter on Thursday. [Liu Junfeng / China Daily]
Tech firm says Q1 net income fell by 51% on poor smartphone sales
Lenovo Group Ltd said on Thursday it will lay off 3,200 employees after it announced a 51-percent year-on-year decline in net income for its first fiscal quarter which ended in June.
The cuts, which will mainly occur in the company's newly acquired Motorola Mobility unit, represent roughly 10 percent of its global non-manufacturing headcount.
Yang Yuanqing, chairman and chief executive of Lenovo, said poor smartphone sales and worsening global demand for personal computers necessitated the job cuts.
"We are planning to reduce expenses by about $1.35 billion for this fiscal year, including reductions of about $800 million from the Motorola unit," Yang told China Daily in a telephone interview.
"Lenovo is facing extremely intense challenges in the smartphone market and we need quick actions to address the problems." Yang, however, did not disclose any further details about the layoff plan.
Hit by slowing PC and smartphone demand, the company's net profit dropped to $105 million in the first quarter, compared with $214 million a year ago, Lenovo said. In the PC business, which has been Lenovo's cash cow till now, pretax income fell by 8 percent year-on-year despite a growth in market share.
Lenovo shares fell by more than 5 percent in Hong Kong on Thursday to HK$8.01 ($1.03), an 18-month low.
Antonio Wang, a Beijing-based analyst with research firm International Data Corporation, said the global slowdown in smartphone sales has forced Lenovo to find new ways to cut operating costs.
"I think it is reasonable (for Lenovo to cut jobs) as the international market has not been bright and all the players are facing strong headwinds," Wang said. He expects the company to rebound after witnessing another quarterly drop in profits.