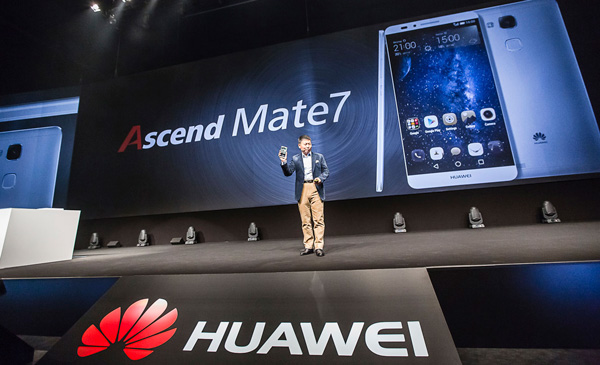 Huawei CEO Richard Yu displays the Ascend Mate7 during a launch event in Berlin, in this handout photo courtesy of Huawei taken on September 4, 2014. [Photo/Agencies]
ACCRA -- Global Information and Communications Technology (ICT) solutions company, Huawei Technologies Limited of China, has cumulatively spent a total of $305 million on procurements in Ghana, an official of the company has said.
This expenditure has also yielded over 4,000 jobs in related industries in the country, Archur Zhou, Director of Business Department at Huawei Ghana, disclosed during the launch of the maiden edition of Africa Mobile and ICT Expo to be held here next month.
"In 2014, Huawei's local procurement amount was $55 million in Ghana," the official added.
According to him, the ICT firm currently employs 700 people in the West African country, with 75 percent of that number being locals.
"Since 2005, we have recorded continuous growth in Ghana. Over the years, we have embarked upon several projects for the government of Ghana. We can mention the National Backbone Transmission Project, the Comprehensive and the E-governance Platform Project, among several other projects," Archur recounted.
The ICT firm also works with leading telecoms operators in Ghana on innovations to promote technical development of the local industry.
"Huawei's focus is not just business. Our vision is to enrich lives through communication and this is reflected in both our commercial and corporate social responsibility (CSR)," the director stressed.
The ICT firm is a Platinum Sponsor of the Africa Mobile and ICT Expo which is geared towards provoking the thought of Ghana's technological advancement.
George Spencer Quaye, Chief Entrepreneurs of Coasters Company Limited, organizers of the exhibition and conference, said Ghana's wealth did not only lie in the volumes of natural resources it was able to export but also in the number of people whose knowledge it was able to tap for development.
"For a nation to develop, its youth need to be empowered economically and financially," Quaye added.
Deputy Minister of Communications, Ato Sarpong, in a keynote address, said Ghana had come a long way in its development of the telecoms industry.
"From 240,000 landlines before 1995, and a modest 10,000 mobile lines in 1995, we attained 2.5 million mobile lines in 2005, and in 2015, there are more than 32 million mobile subscriptions in Ghana," Sarpong stated.
He said the government was determined to use technology to ignite development in the country, hence the heavy investments being made in the ICT sector.