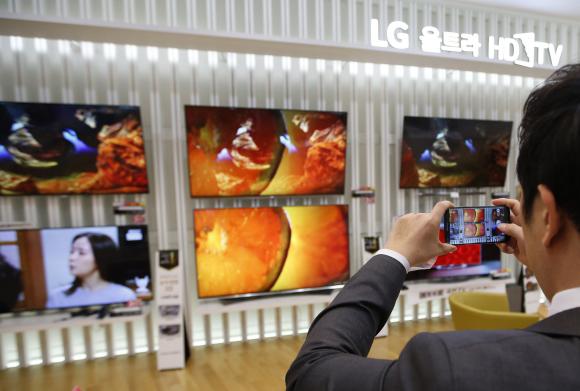 An employee takes photographs of LG Electronics' organic light-emitting diode (OLED) TV sets, which are made with LG Display flat screens, at its store in Seoul January 28, 2015. [Photo/Agenices]
South Korea's LG Electronics Inc said on Tuesday it plans to partner with Chinese and Japanese firms in a bid to make organic light-emitting diode (OLED) display televisions more mainstream.
LG Electronics, the world's second largest television maker after rival Samsung Electronics Co Ltd, did not say what the partnership would entail or name the companies.
Its affiliate LG Display Co Ltd is the only panel maker that can mass produce OLED TV panels, and both companies are the biggest proponents of the technology for the TV market. The LG companies say OLED offers better picture quality and consumes less power than mainstream liquid crystal displays (LCD).
OLED TVs, however, remain more expensive than LCD televisions. The recent industry-wide adoption of quantum dot technology, which has many of the advantages of OLED but costs less, could also undercut OLED TV sales.
Some Chinese TV makers like Skyworth Digital Holdings Ltd and Konka Group Co Ltd are using OLED, but analysts say the technology needs to be more widely used by manufacturers to take off.
The world's biggest TV maker Samsung has said it has no plans to make OLED TVs in the immediate future because the technology is not yet ready for mass consumption.
Last year, Sony Corp said it would be open to using OLED displays for its televisions.