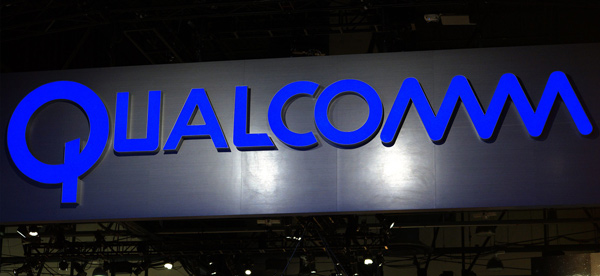 The sign hanging outside the Qualcomm booth is seen at the International Consumer Electronics show (CES) in Las Vegas, Nevada January 6, 2015. [Photo/Agencies]
China's antitrust regulator Tuesday announced to impose a penalty of 6.08 billion yuan ($975 million) on Qualcomm Inc, the highest penalty since China's antitrust law took into effect in 2008.
Xu Kunlin, head of the anti-monopoly bureau of the National Development and Reform Commission, said China welcomes more foreign companies to invest in China.
"Our purpose is to maintain fair competition in the industry. Some practices (of Qualcomm) have hindered creativity of other companies ... it's not beneficial to the industry and customers," Xu said on Tuesday.
The amount accounts for 8 percent of Qualcomm's 2013 revenue in China. Analysts said the fine is modest and shares of Qualcomm surged after the chipmaker announced the resolution as it dispels concerns among investors.  
China accounts for roughly half of the company's revenue, which totaled $26.5 billion in the fiscal year ended in September.The Anti-Monopoly Law allows the government to fine companies up to 10 percent of their annual revenue.  
The "unfair" and "excessively high" royalties Qualcomm Inc collected from Chinese smartphone makers were the key factors that led to the historical fine, the National Development and Reform Commission said on Tuesday.
"Qualcomm refused to provide patent list to its customers in China and out-of-date patents were included in the licensing package and charged," the NDRC said in a statement.
Other major breaches that violated the Chinese Anti-Monopoly Law include product bundling and adding unreasonable conditions in the sale of baseband chips, the NDRC said.
Nicole Peng, research director at Canalys China, said the rectification plan will have a "relatively small" impact on Qualcomm's revenue in China.
Qualcomm will change its patent fee on two device categories- 3G and 4G devices that don't have WCDMA and CDMA, according to a company statement.
"We expect these two categories in total to account for less than 40 percent of the overall LTE shipments in 2015 and even less in the coming years," said Peng.
In addition, as both categories are mainly lower-end products, it will not have significant impact on the total revenue, she added.
ZTE Corp, one of the top smartphone makers in China, said it welcomes the resolution from NDRC.
"The resolution will have a deep impact on global communication industry and is good for China to build a business environment that sees highly in intelligence protection," the company said in a statement.