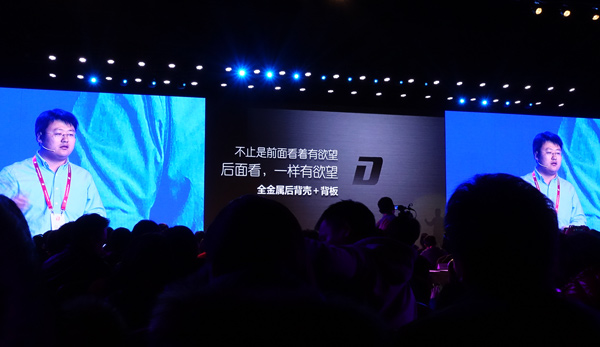 Zhou Liuqing,director of Shenzhen Damai Technology Co Ltd,delivers presentation for Damai TV's launching event held on Feb 4, 2015 at the China National Convention Center in Beijing. [Photo/Liu Zheng]
With television having become a terminal with which to access the Internet, Dr. Peng Telecom & Media Group Co Ltd has launched its first over-the-top (OTT) television, Damai TV, aiming to transform from network provider to integrated service provider.
Shenzhen Damai Technology Co Ltd, a subsidiary of China's largest private telecom carrier, launched the OTT TV at the China National Convention Center in Beijing on Wednesday.
According to Damai director Zhou Liuqing, the smart TV market will in future no longer be a single sector but will comprise many, becoming an ecological industry chain.
Damai TV is a 55-inch 'split-type' television. With a quad-core Amlogic CPU and an 8-core GPU, most of its hardware is in a box independent of the LCD screen.
Attached to the TV, the brand also provides an independent 24 bit, 192kHz high-resolution sound bar named Domy Hi-Fi.
OTT TV, which provides linear channels, P2P online video distribution applications, video on demand services and catch-up TV services connected to the Internet, has identified new growth in consumer electronics in a country with 649 million potential netizens.
According to Sina's Tech Channel in January, as of the end of 2014, China had 31 million mainstream-brand smart TV users. Traditional home appliance manufacturer Hisense ranked top with 8 million, while LeTV and Xiaomi TV, viewed as Damai's principal competitors, brought up the rear with just 1.5 million and 300,000 users, respectively.
Apart from the TV, Damai announced a series of other products, including a super broadband service and Damai box 2.0 plus domyshop.com, the company's online shop.
Dr. Peng Telecom & Media Group, listed on the Shanghai Stock Exchange in 1994, operates its main businesses through Internet services, including Internet access, broadband access, server custody, data storage and Internet data center business.