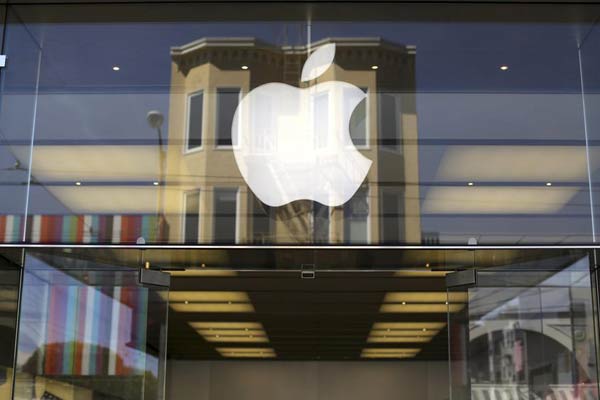 The Apple logo is pictured on the front of a retail store in the Marina neighborhood in San Francisco, California April 23, 2014. [Photo/Agencies]
Apple Inc is banning the use of two potentially hazardous chemicals during the final assembly of iPhones and iPads as part of the company's latest commitment to protect factory workers who build the devices.
The decision announced on Wednesday comes five months after the activist groups launched a petition calling on Apple to abandon the use of benzene and n-hexane in the production of iPhones.
A four-month investigation at 22 factories found no evidence that benzene and n-hexane endangered the 500,000 people who work at the plants, according to Apple.
No traces of the chemicals were detected at 18 of the factories and the amounts found at the other four fell within acceptable safety levels, the company said.
Nevertheless, Apple decided to order its suppliers to stop using benzene and n-hexane during the final assembly of iPhones, iPads, iPods, Macintosh computers and various accessories.
Apple is also requiring all its factories to test all substances to ensure that they do not contain benzene or n-hexane, even if the chemicals are not listed among the ingredients.
Benzene is a carcinogen that can cause leukemia if not handled properly and n-hexane has been linked to nerve damage. The substances are often found in solvents used to clean machinery and electronics.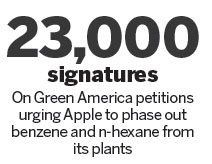 Apple is still allowing use of the two chemicals during the early production phases of its products - activities that primarily take place at hundreds of other factories besides the ones responsible for the final assembly of the devices - but it is lowering the maximum amount of benzene and n-hexane that can be present.
"This is doing everything we can think of to do to crack down on chemical exposures and to be responsive to concerns," Lisa Jackson, Apple's vice-president of environmental initiatives, said in an interview with The Associated Press. "We think it's really important that we show some leadership and really look toward the future by trying to use greener chemistries."
All but four of the final-assembly factories affected by Apple's new guidelines are operated by third-party contractors in China, where the company has faced criticism for allowing oppressive labor conditions that have made some workers ill and driven others to suicide. The company maintains that its periodic audits of the overseas factories are weeding out abusive labor practices.
The other factories covered by the final-assembly ban on benzene and n-hexane are in Brazil, Ireland, Texas and California.
"It is a good first step," said Elizabeth O'Connell, Green America's campaign director America. "I hope they will continue to remove the most dangerous chemicals to human health or find ways to reduce the exposure."
Green America's petition drive collected nearly 23,000 signatures urging Apple to phase out benzene and n-hexane.
Neither chemical is unique to Apple's manufacturing process. They are also used in the production of electronic products sold by other technology companies that have faced similar criticism.
Apple's new rules governing benzene and n-hexane hopefully will pressure other device makers to adopt similar policies, said Gary Cook, senior information technology analyst for environmental rights group Greenpeace.
"This move shows Apple can use its market muscle and influence to identify cleaner practices," Cook said.
Even so, Apple's factories still rely on a long list of toxins that could harm people and the environment, Cook said.