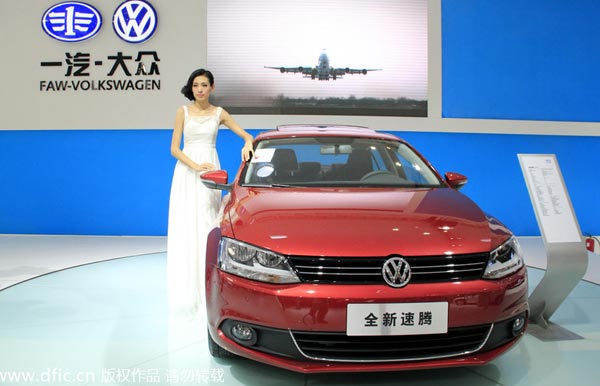 A model poses with a New Sagitar of FAW-Volkswagen during an auto show in Haikou city, South China's Hainan province, 13 July 2012. [Photo / dfic.cn]
China's quality inspector is investigating into potential defects of FAW-Volkswagen Automobile Co's New Sagitar sedan, according to a statement on the inspector's website on Thursday.
Responding to growing complaints about broken rear axles on the New Sagitar, the General Administration of Quality Supervision, Inspection and Quarantine has organized experts to check vehicles with faults and asked the automaker to remedy the problem.
Owners of the affected cars have been asked to provide more information to assist the investigation.
The locally manufactured compact car hit the market in March 2012. The model ranked fifth among the best-selling cars in the Chinese mainland in 2013 with 271,200 units sold. It is also known as New Jetta in North America and Europe.
FAW-Volkswagen issued a statement on July 22 saying its experts looked into the issue and found the broken rear axles were rare cases. FAW-Volkswagen said there was no problem in the design or manufacturing.
FAW-Volkswagen is a joint venture between the China's First Automobile Works and Volkswagen Group founded in 1991.