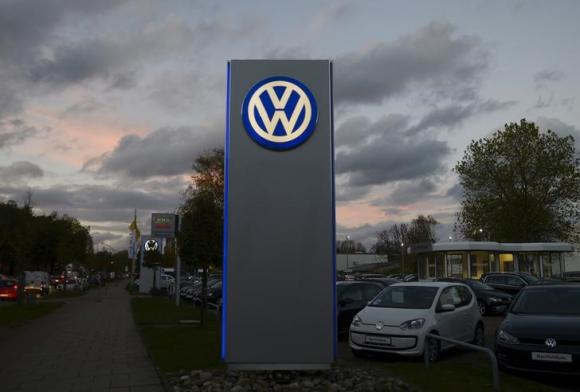 The logo of German carmaker Volkswagen is seen at a VW dealership in Hamburg, October 28, 2013. [Photo/Agencies]
Volkswagen is closing in on Toyota Motor Corp as the global leader in vehicle sales, with a rapid expansion drive in China - the world's biggest auto market - while Toyota curbs growth to focus on shoring up quality.
Toyota, reigning at the top spot in the auto industry for two years in a row, announced relatively robust global sales growth of 3.8 percent for the first six months of the year to 5.097 million vehicles on Wednesday, a record first-half result.
But Volkswagen is growing faster and its half-year total could pull even with or even surpass the Japanese auto giant.
The Volkswagen group sold 4.97 million vehicles in January-June, up 5.9 percent from the same period a year ago, excluding figures from truck makers Scania and MAN that will be released on July 31.
IHS Automotive forecast Volkswagen's total first-half sales at 5.07 million vehicles including the truckmakers. The Toyota result, which the carmaker said reflected strong sales in the United States, China and Europe, exceeded the IHS forecast of 4.83 million.
Even if Toyota manages to retain its crown for the first half, its position looks less secure for the full year.
"China is the driving force of the global market, and the degree to which a company is focused on that region is linked to the global sales performance," said Yoshiaki Kawano, a Tokyo-based analyst at IHS Automotive.
General Motors Co, which Toyota overtook two years ago, said it sold 4.92 million vehicles in January-June.
Volkswagen, which sold 3.27 million vehicles in China last year, is planning to invest 18.2 billion euros ($24.4 billion) between 2014 and 2018 in new plants and products there together with its Chinese joint venture partners.
Toyota's China presence is much smaller with annual sales of 1 million vehicles, and while it plans eventually to double that it has given no time frame.
Toyota has put a freeze on the building of new plants until about 2016 and President Akio Toyoda has stressed that the company is focused on building better cars rather than chasing sales volume.
"Even if Toyota makes up its mind on potential investments soon, it'll be around 2017 when those plants can start operating," said Takaki Nakanishi, auto analyst and CEO of Nakanishi Research Institute.
Nakanishi expects Toyota to start announcing investment plans for new plants in the near future. It could open a new plant in Mexico, according to analysts and media reports.
Despite VW's expansion, profitability remains an issue, with its namesake brand's 2013 profit margin at 2.9 percent while Toyota's auto division achieved 8.8 percent and Hyundai Motor Co stood at 9 percent. Much of VW's production is in its home market of Germany, where workers secured a significant pay increase last year.
The Volkswagen group's brands include Volkswagen Passenger Cars, Audi, Porsche and Skoda, among others. Toyota includes the Toyota brand, Lexus, Scion, Daihatsu and Hino.