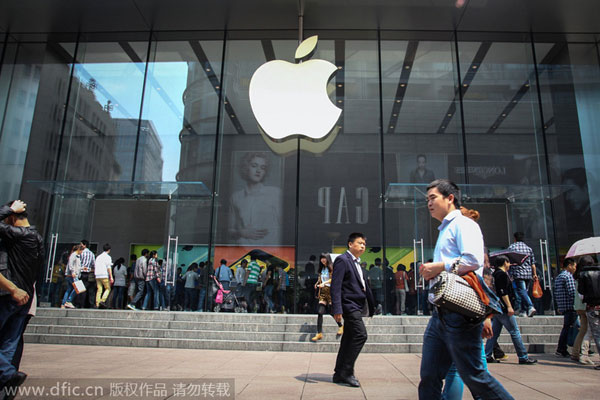 Pedestrians walk past an Apple Store on the Nanjing Road shopping street in Shanghai, China, June 20, 2014. [Photo/IC]
Devices made by Apple Inc were never on the Chinese government's purchasing list of energy-saving products because the electronics giant did not hand in the documents needed to an agency overseeing the project, a report says.
"China did not ban Apple products from government procurement projects. The company gave up the chance to be listed of its own accord," China Government Procurement News reported in Beijing.
The newspaper is indirectly run by the Ministry of Finance, a watchdog for all government purchases.
The procurement list, revised for the 16th time in July, is drafted by the Ministry of Finance and the National Development and Reform Commission every six months.
China requires all computers bought with public money, except for high-end portable ones, to be energy- efficient.
Earlier reports by Bloomberg News stated that up to 10 Apple products, including iPads, were rejected by the Chinese government for the 17th edition of the list because of security concerns.
Apple declined to comment to China Daily on Friday.
James Yan, a senior analyst at consulting firm IDC, said, "Apple has put all its focus on the consumer market and is working hard to enhance its ecosystem in China, the world's largest buyer of electronics."
Bryan Wang, China manager at Forrester Research, said the major profit-drivers for Apple in the country are iPhones, iPads and other portable devices in the consumer market. "Very few sales come from government or State-owned enterprise buyers," he said.
Exact earnings of Apple's non-consumer business are unclear because the company only discloses the total sales figure for the Chinese market, which contributed about 15 percent of its $37.4 billion revenue in the second quarter.
Apple Chief Executive Officer Tim Cook described April-June sales in China as "honestly surprising". Sales of iPads rose by 51 percent in the quarter and laptop sales increased by 39 percent year-on-year, the company's financial report says.
Gene Cao, a senior analyst at Forrester, said security fears in China over information technology products provided by overseas suppliers are set to increase.
He said leading technology firms from the United States, including Microsoft and IBM, are facing a hard time in China because they cannot meet the country's increased security demands.