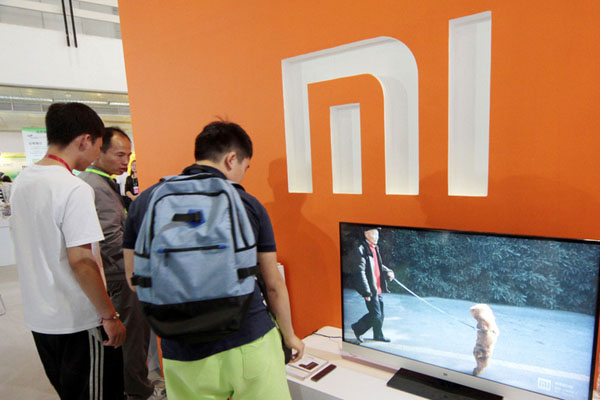 Visitors look at a Xiaomi LCD TV during an exhibition in Beijing, China, 15 May 2014. [Photo/IC] 
As watching TV dramas and playing games on mobile devices have become popular among young consumers, traditional TV producers are eager to pull them back to the living room by working with Internet service providers.
Sony China Co Ltd announced plans to cooperate with Xiaomi Corp, known for its smartphones and smart TVs, during the launch of its 4K media player, which can download 4K quality movies and other visual content.
4K TV offers four times the resolution of high-definition TV and is designed especially for very large screens.
"In this social networking and mobile world, how to better grasp and satisfy the needs of young consumers has become a common topic for Sony," said Nobuki Kurita, president of Sony (China).
"In China and other countries, the habits of watching television among the young generation have changed," said Kurita, who joined Sony in 1979 during the age of the Walkman.
One of their efforts to lure young customers is to embrace the leaders in the Internet field. Sony China has collaborated with Xiaomi on Internet services, which means Sony's TV remote can also operate Xiaomi's TV set-top box.
Sony will also leverage its gaming businesses to sell its big screen sets.
"Gaming business is one of the incentives to attract young people to return to the living room and revitalize their home TV. It is a great experience to play games on a big screen instead of a cell phone," said Kurita.
As one of the key three markets for Sony, along with Japan and the United States, Sony China has focused on digital visual, television and audio to target high-end products and the young generation, he said.
Sony Visual Product Inc started to operate independently from the group in July in order to make quick actions in response to market changes.
He said Sony's first-quarter result showed the reform of electronic business well on track with sales increasing by 5.8 percent and profits reaching 69.8 billion yen ($682 million). The TV business alone generated a profit of 7.9 billion yen and the Chinese market was a major contributor.
Kurita said Sony will focus on high-end television units with bigger screens and 4K technology—an area that has not shown any signs of slowdown. The sales of its 4K television is expected to rise fourfold from 2013 and account for 20 percent of the total revenue, he said.
According to industry statistics, sales of TVs with 4K technology will reach 4 million units this year.
Sharp Corp, another TV producer, announced plans earlier this year to transform from a traditional television producer to high-resolution TV sets with the collaboration of Internet players.
It has also expanded its range to lower-end products to target new consumers and those in third- and fourth-tier markets.