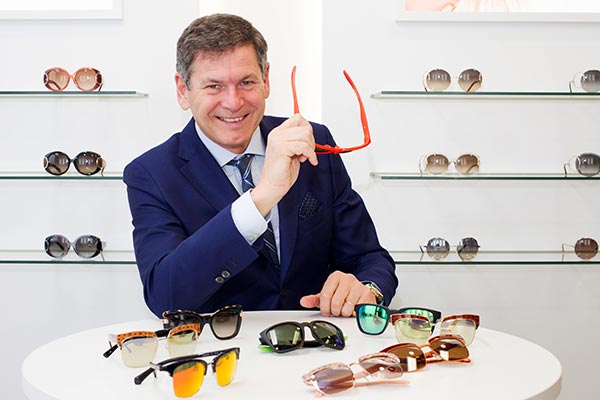 Claudio Gottardi, president and CEO of New York-based Marchon Eyewear Inc. GAO ERQIANG / CHINA DAILY

Claudio Gottardi says new glasses will detect illnesses before they strike the wearers
Just a few years ago, working on eyewear was all about beauty, fashion and design. Not anymore. Claudio Gottardi, president and CEO of New York-based Marchon Eyewear Inc, sees the future of glasses not just in fashionable design, but in portable technology.
So, Marchon worked with Google Inc for the development of Google Glass that uses the Google technology and turns geek into chic.
"In the past three years, I've started re-understanding how eyewear can change the way we are going to be-our well-being is going to be the future. Eyewear is going to deal with health and well-being, much more than we can even remotely think today," he said.
"The future of eyewear will not be to see better, or protect yourself from the sun, but also to transmit health information to your portable devices-basically study your emotion and your heartbeat to be connected with your health," said Gottardi, the Italian-born businessman who now resides in the United States.
Working with more than 20 prestigious fashion and sport brands, Marchon has developed an extensive global network with offices located in more than 20 countries.
In China, particularly, it built an extensive distribution network covering 169 cities in 29 provinces, including a design studio in Hong Kong and a logistics center in Shenzhen, Guangdong province.
Gottardi spoke recently to China Daily about Marchon's innovative market approach in China.
The following are edited excerpts from the interview.
How do you assess the prospects of your business in China?
We have had relationships with partners in China for more than 20 years in production as well as in research and development, especially in Shenzhen, where we have our distribution center.
Now we are developing new relationships with distributors around the country. A lot of them are through local wholesalers, who are very modern, smart and capable.
We are also exploring expansion and want to invest in research and innovation. We have a part of our company that is dedicated to the development of new technologies such as 3-D printing and new way of using eyewear.
What's you biggest achievement as the CEO?
On a personal level, the biggest investment we've done in innovation has shown me the future in the way that I wouldn't have thought of two to three years ago.
Two years ago, we did the project with Google, by working with it for the development of Google Glass by applying the Google technology. Since then, we've started making bigger investments in the health sector.
For example, we're developing eyewear that can detect illness before it strikes a person.
When it becomes a reality, I think that will be my biggest achievement.
What's the secret of your success in China?
China is a market that has progressed tremendously over the past five to 10 years.
The growth came with an extreme modernization in infrastructure and many other areas.
China has changed from a huge economy based on population and manufacturing capability into a new economy based on infrastructure and even commercial distribution. So products that are better and higher in quality have become much more desirable to the Chinese consumers.
Now design, quality and innovation are very important to the consumers in China, and it becomes so much easier for Marchon to enter the market and expand.
What's an effective leadership for leading a company engaged in business in China? How has your style of management changed over time in China?
I grew up in Italy and I worked mostly in Europe and America. For me, working in an international environment, speaking the languages and understanding the mentality of new markets have been the bread of my life.
China is the biggest market in the world going through huge changes and innovation with great opportunity.
I can clearly see in the next 10 years it will be one of the most important markets for our company.
It is going to have millions of new consumers and we will have probably thousands of employees working in China. The organization will not just enlarge with size but will be more involved with China's changes.
I won't change my style but will change the way our company work in the future in China. We will have to invest a lot in innovation or will be left out with no opportunity.
To follow up the market trend in China will be much more difficult than anywhere else because it changes so fast.
How do you deal with the rising competition from local and international brands?
Competition is good, to start with. Competition forces you become a better company. Without competition, we will all do the same for maybe the next 20 years because nobody has to invest and make it better. The existence of competitors will force me to innovate, invest and prosper.
China has some very strong products. In fact, it is the biggest producer of eyewear in the world from a volume point of view.
Therefore, China has a huge competition at the lower end of the market. Over the years, we will meet the evolved Chinese competitors in the middle point of the market.
Marchon has about 100 people working in design development between Italy, the United States and the Hong Kong Special Administrative Region.
How do you handle hardships and setbacks, if any?
Some people get frustrated by hardships and setbacks, but some people get excited, like me.
I don't like normality, things that have happened and follow the normal trend. I like when I am in the situation that when I wake up in the morning, things are completely different from the previous night, and I have to figure out how to get along with it.
That's what makes my day more exciting and challenging. It is like playing sports, I can feel that energy.
For me, the excitement is the continuous change that makes my heart beat harder and catch up the changes faster.
What is your life/business philosophy?
To be able to have a vision means to be able to have a dream and follow it.
I think my main motivators in my career have been believing in my dreams, following my dreams and setting the heart the way I want to go, and not the way people think I should go.
I think that a good CEO, especially in a fashion industry or consumer goods industry, should be able to predict what's going to be the next big thing.
What are your hobbies? How do you spend your time off duty?
Sports and arts are parts of my life. I love biking, boating, skiing and everything that a person can get hurt, I do.
When I start a sport, I set a goal for myself to achieve. For example of biking, my goal is to get on the top of the mountain with my bike, so I will go as far as I can to get closer to my goal.
All my sports are about reaching achievements, looking for a dream and challenging for the limits.
CV
Age: 60
Career:
2009 onwards: President and CEO of Marchon Eye-wear Inc
2006-09: CEO of Safilo Group
1985-2006: Safilo's Central Europe area manager, US director of new business development at Safilo, marketing director and CEO of Safilo USA
Education:
BA in electronic engineering with a minor in economics fromthe University of Padova in Italy
Family: Married with two sons