Models stand by a Hyundai car at an auto show in Tianjin. The carmaker' deliveries fell 5.1 percent to 1.06 million vehicles last year in China. LYU SHUANG / FOR CHINA DAILY
Hyundai Motor Co said it has received more consumer inquiries in China after hit South Korean drama Descendants of the Sun featured its cars and a scene showed a couple kissing while their Genesis sedan drove by itself.
The drama about a South Korean special forces captain and a surgeon falling in love while on an overseas mission brings together two of the country's most recognizable stars: Song Joong-ki and Song Hye-kyo.
In China, where the show has garnered more than 2.6 billion views on video site iqiyi.com, female fans of the show's lead actor have taken to calling themselves "Mrs Song" on social media.
Hyundai is hoping some of that adulation rubs off on its cars and translates into sales.
In the scene, supporting male lead Jin Goo engages the Genesis' lane-keeping and cruise control function on the touchscreen dashboard before reaching over to grab the hand of his love interest, eyes locked on hers and off the road.
The camera pans out to show the car driving independently on a city road with vehicles zooming past before cutting back to the steering wheel, sans hands. The stunt is repeated, and the scene ends with a prolonged kiss to soft strains of orchestral music.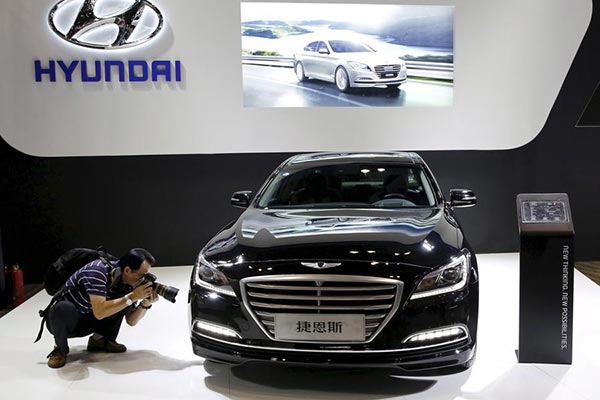 A visitor takes picture of Hyundai Genesis model during the Imported Auto Expo in Beijing, China, in this September 24, 2015 file photo. [Photo/Agencies]
That scene alone made a convert of Ms Grace Wang. The 23-year-old sales representative at a boutique in Beijing plans to make her first car a Hyundai.
"I would like to have a car that can go by itself like I saw in the show," she said. "It is so cool."
Hyundai could do with the help. Deliveries fell 5.1 percent to 1.06 million vehicles last year in China, the first annual sales decline since 2007. The shift in consumer preferences to cheaper sport utility vehicles hurt demand for the automaker's sedan-heavy lineup, dragging it to the lowest profit in five years.
The automaker will respond by cutting costs at its plants in China and stepping up production of smaller cars and SUVs to take advantage of a tax cut in October, Chief Financial Officer Lee Won-hee said on a conference call in January. At next week's Beijing motor show, the automaker plans to show models including its new ix35 SUV and China-specific version of its Elantra sedan.
"While Hyundai is already an established brand in China, we expect the show's popularity to further help enhance our brand perception and awareness," Hyundai said in a statement.
"It is too early to say the show immediately helped boost our sales, our dealers are getting increasing interest and inquiries about products shown in the soap opera."