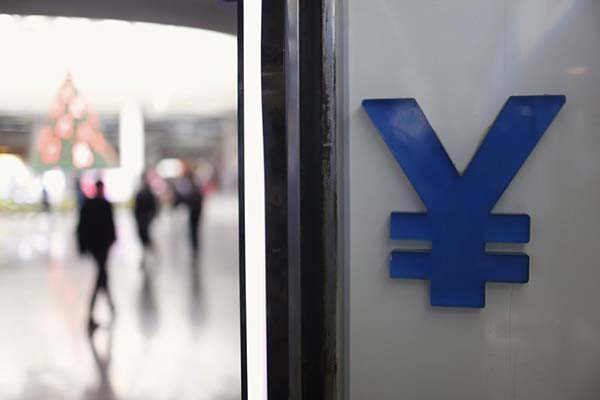 A logo of yuan is seen at a foreign exchange store in Shanghai, China, December 1, 2015.[Photo/Agencies]
A depreciation of nearly 3 percent in the yuan against a basket of foreign currencies is considered "stable", the State Administration of Foreign Exchange said on Thursday.
Recent fluctuations of the Chinese currency against the basket can be defined as being "in a basically stable range," Wang Chunying, spokeswoman for the administration, said at a news briefing.
Wang's comment shed light on the accepted range the administration toward the yuan's depreciation against the basket as currency traders speculate on the level of volatility that would force the authority's intervention.
The yuan has weakened by 2.8 percent against the basket, which comprises 13 currencies the central bank say it is "referencing", prompting concerns over whether the drop compromises China's commitment to keep the yuan "stable" against the basket.
In the first quarter, the yuan appreciated against the US dollar but fell against the basket. Its nominal effective exchange rate fell by 2.3 percent against 40 currencies defined by the Bank for International Settlement.
Wang also explained that yuan's reference to currency basket is not "pegging", but "reference". She said yuan is "stable" compared with other currencies as some of them saw over 10 percent depreciation over a short period.
The People's Bank of China, the central bank, in recent months has been dangling between depegging the yuan to the dollar toward a managed float regime, and repegging it to the US currency when market confidence toward the yuan slumped.
Analysts said this has served the bank's interests by giving it more "wiggle room" on its currency policy.
Tom Orlik, an economist at Bloomberg said: "The worst fears of a cascading capital flight have come to pass. ... There appears to have been a re-pegging of the yuan against the dollar since mid-January, which reduces the incentive for households to shift funds out of China's currency."
According to the foreign exchange administration, China's commercial banks sold a net $33.6 billion of foreign exchange on behalf of clients in March, compared with $35 billion in February and $69.4 billion in January, and a far cry from August's peak of $127 billion.
Wang said China may start more forex derivatives trading and allow more flexible management of banks' forex position settlement.