Daimler, Chery settle branding spat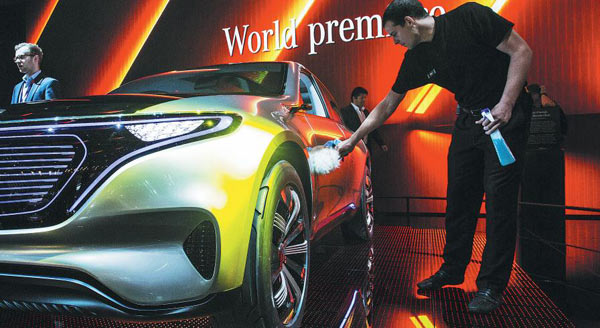 An employee cleans the new Mercedes EQ concept car during the press preview of the Paris Motor Show last year in France. [Photo by Christophe Morin/For China Daily]
German car giant Daimler and Chinese automaker Chery Automobile have reached a deal over the similar brand names they use for their new energy vehicle cars.
The deal came after Chery filed a complaint earlier this year to the trademark authorities saying Daimler's EQ is an infringement of its eQ, which it has been using since 2014 and stands for the electric version of its model QQ.
Daimler made public its EQ brand at the Paris auto show last September, saying the name is an acronym of Electric Intelligence, a play on the familiar IQ and a nod to its focus on intelligent electric mobility.
According to the deal the two signed on July 6, Chery will focus on using the designations eQ and eQ1, as well as further numerical continuations, while Daimler will focus on the designations EQC and any other alphabetical supplements in its electric Mercedes-Benz products.
Daimler will use the EQ Power designation for plug-in hybrids while Chery will also use eQ TEC to name their car electrification system.
"Chery achieved a great reputation in China with their eQ brand name and we highly respect that. I am happy that Daimler and Chery agreed on a collective use of the eQ/EQ acronyms in an open and partner-like atmosphere," said Hubertus Troska, a member of the board of management of Daimler.
"With this mutual understanding, Chery and Daimler commit to fostering the electric future in the automotive industry-in China and all over the world."
Chery CEO Chen Anning said: "We are proud of the achievements that Chery made in technological development and intellectual property. We applaud the win-win agreement reached with Daimler for the coexistence of our brands worldwide. Chery is dedicated to providing the global market with superior product value, customer experience and unique brand value."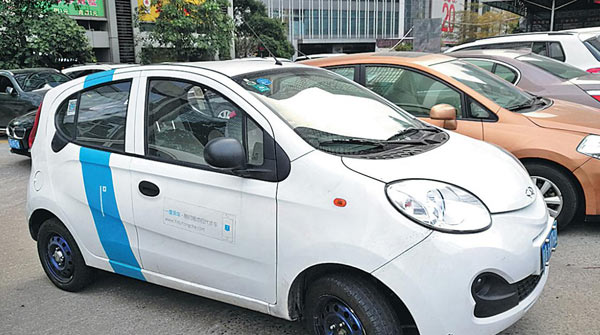 Chery's eQ vehicles are the main models of the car-sharing service in Guangzhou, Guangdong province. [Photo by Xu Ying/For China Daily]
Daimler's EQ-branded cars are estimated to hit the market around 2020. Troska said they would also be sold and made in China.
Globally, the carmaker said 15 to 25 percent of its product portfolio would comprise new energy vehicles by 2025. Analysts say the deal, which would prevent Daimler from any future troubles, shows its growing commitment to new energy cars, especially in the Chinese market, which has been the largest worldwide and is still growing fast.
Earlier this month, Daimler signed a framework agreement in Berlin with China's BAIC Group to produce Mercedes-Benz-branded electric cars via their joint venture Beijing Benz Automotive.
In accordance with the 5 billion yuan ($738 million) agreement, the two are preparing to produce electric vehicles in China by 2020 and to provide the necessary infrastructure for battery localization using Chinese cells, as well as to expand research and development capacities.
In June, Daimler also announced its intention to acquire a minority share in Beijing Electric Vehicle, a subsidiary of BAIC Group, with the purpose of strengthening collaboration in the new energy car sector.
Contact the writer at lifusheng@chinadaily.com.cn