German automaker remains focused on what's important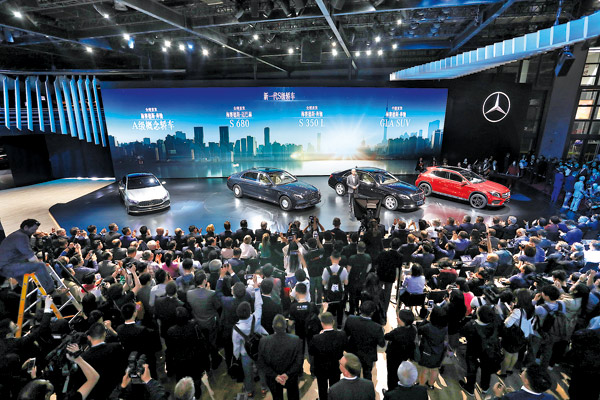 Dieter Zetsche, chairman of the board of management of Daimler AG and head of Mercedes-Benz Cars, introduces new models to an enthusiastic media audience.[Photo provided to China Daily]
Mercedes-Benz has worked to maintain a modest tone, even as the company experiences record sales volume that outperformed its major German competitors in the first quarter of 2017.
Although the company managed to sell over 150,000 vehicles in the first three months of 2017, with 37 percent year-on-year growth, it says the company's focus is not on simply pursuing numbers.
The German automaker, however, stressed that their focus remains to be customer orientation, and striving to maintain solid, sustainable and profitable growth.
"We must continue to satisfy our customers and we will see how our development in general and relative to our competitors is at the end of the year," said Dieter Zetsche, chairman of the board of management of Daimler AG and head of Mercedes-Benz Cars.
"I want to say we are very happy to be No 1 position in the first quarter, and I hope everyone gets a consistent message from us that there is no reason to be celebratory," added Hubertus Troska, member of the board of management of Daimler AG responsible for China. "I think the right way is to stay focused, stay humble, work hard together with our partner and dealers," he said.
After all, satisfying customers with new and innovative offerings, as well as creating a delightful customer experience are the key factor for every successful business.
"I think one of the main growth drivers for the premium sector is providing new and fresh addition of new models and of course offering the premium experience to customers," said Troska.
China will continue to see a wide range of exciting new products from Mercedes-Benz, as the company continues to place its commitment and confidence in this market.
Although established-industry figures predict a general slowdown in the overall China passenger vehicle market, both Zetsche and Troska expressed their continued faith in the Chinese market.
"China's GDP growth in the first quarter of 2017 was 6.9 percent, and our growth in the first quarter was 37 percent," said Zetsche. "None of these numbers make me pessimistic."
Mercedes-Benz has every reason to be optimistic for a better market position, since its compact car family makes up 20 percent of the company's sales in China.
In fact, the GLA SUV, one of the company's top compact car models, experienced 70 percent year-on-year sales growth in 2016.
It may explain why more customers will be able to enter the premium auto segment and this shift is expected to be more dramatic among compact car customers.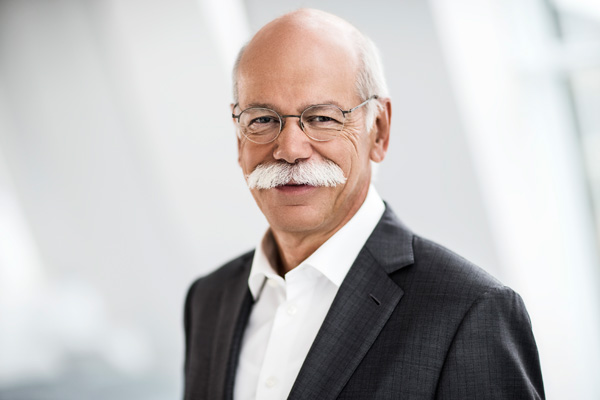 Dieter Zetsche, chairman of the board of management of Daimler AG and head of Mercedes-Benz Cars. [Photo provided to China Daily]
"I think this is part of the dynamics we will see in China, and the growing number of young and discerning customers, which makes me positive we have further growth potential especially in the compact segment. For that, even if the overall passenger car market does not grow that strong, there's no reason to believe that the premium segment does not outpace the overall market" said Troska.
Even though, Mercedes-Benz is aware that its new models, such as the new S-Class, will face active competition within their respective segment, the company is confident.
"So I think we have in China a very strong position with the unique offerings like the S-Class sedan and Mercedes-Maybach," said Troska.
"Both models enjoy a strong volume, and offer a clearly superior value proposition to customers, and maintain a clear price premium even with new entrants from our competitors."
The automaker and its dealer relationship has been a widely discussed topic in China over the past year, especially regarding premium auto brands. Since BMBS was established four years ago, the win-win relationship between Mercedes-Benz and its dealers has been warmly applauded and taken as an inspiring example of how premium auto brands can address this significant topic.
"I strongly believe that for a premium brand, a premium experience is crucial for success," said Troska.
"This premium experience is largely dependent on good dealer performance and dealer relations."
Talking about the future, there is a shared consensus in the industry that connectivity, automotive intelligence, shared service, and e-mobility will be increasingly significant for the further development of automakers' business, and will be vital in determining their position in future competition.
Daimler's CASE strategy, namely "connected, autonomous, shared and electric Mobility," projects its clear view, as a traditional automaker of how to address these challenges facing the future.
CASE Mobility-each trend has potential to turn industry on its head, and these trends will be more pronounced here in China compared to other parts of the world.
As far as e-mobility is concerned, according to Zetsche, Mercedes-Benz aims to have more than 10 new electric vehicles in the market by 2022 at today's press conference. "And we will of course make sure, many of these new models will be introduced to China market", Troska added.
As far as the race of automated car is getting more competitive with many new comers in the field, Daimler confirmed its unchanged vision of achieving accident-free driving with autonomous technologies in the near future.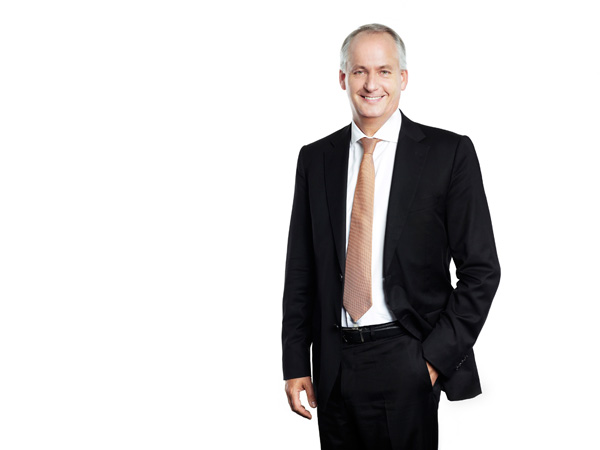 Hubertus Troska, member of the board of Management of Daimler AG responsible for China. [Photo provided to China Daily]
Zetsche stated that "with the latest sensor technology and combining high precision map, as well as car-to-car communication, the overall fusion of data will lead to the right decisions of the vehicle, therefore to achieve higher level of autonomous driving."
Moreover, recent advancements in technology have vastly accelerated the possibilities in shared mobility, with modern cities taking the lead in implementing new ways to get around. "Especially for us living in China, we observe how well the sharing trend has become," said Troska.
"The latest boom in bike sharing in China is just unbelievable, and it's another indication that car sharing will become even more popular."
Daimler is the first automaker introduced its share mobility service car2go to China, with its free-floating and convenient accessibility, it has garnered popularity with now over 140,000 registered members.
Zetsche said the company is convinced that their current success is to a high extent due to listening to advice from Chinese customers and the Chinese media. "So we definitely plan on continuing that."