Mercedes-AMG delivers adrenaline-fueled drives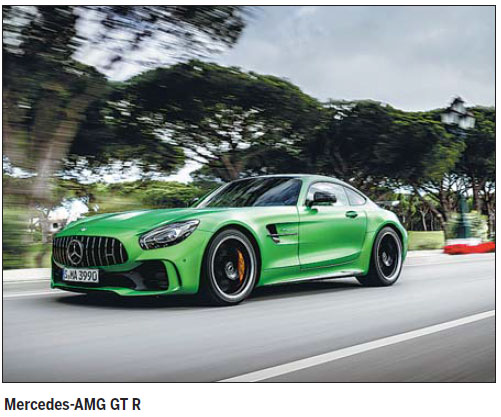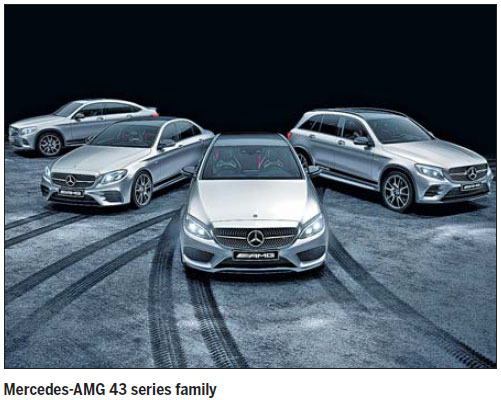 As the country's customers have become increasingly selective and well-informed, a new breed of high-performance auto enthusiasts have begun to swell in numbers.
These customers have in turn seen their demands and preferences reflected in the products offered by Mercedes-AMG, which celebrated its 50th anniversary globally and 10th anniversary here in China earlier this month.
During the Mercedes-AMG 50 Years of Driving Performance Ceremony, the brand celebrated its legendary success on and off the track through the unveiling of five extraordinary new models, including the Mercedes-AMG GT R and new Mercedes-AMG model series, which all reappeared at the Shanghai auto show.
As the newest member of the Mercedes-AMG GT family, the Mercedes-AMG GT R will officially launch mid-year.
The Mercedes-AMG GT R has gone through arduous tests at the Nrburgring-Nordschleife, and not only enriches the AMG GT family, but more importantly elevates AMG's top-level products to new heights.
Continuing the iconic design style of the AMG GT family, the Mercedes-AMG GT R features a uniquely fascinating front end, elongated bonnet, sumptuous curves and a back-positioned cockpit that proudly display the vehicle's unique sports car character.
The vehicle is an aerodynamic masterpiece, featuring a newly designed active aerodynamic spoiler that automatically lowers the body closer to the road surface for a more dynamic driving experience.
The Mercedes-AMG GT R also boasts ultra-large air intakes that are designed to meet the vehicle's higher air-cooling requirements while optimizing aerodynamics.
It also features wider front and rear fenders and track to enhance road traction for even nimbler cornering.
In terms of performance, the Merceds-AMG GT R is equipped with a 4.0-l V-8 bi-turbo direct injection engine that offers a max output of up to 430 kilowatts (585 horsepower) and a peak torque of 700 newton meters.
In combination with an AMG speedshift DCT 7-speed transmission, the Mercedes-AMG GT R is able to accelerate from 0-100 kilometers per hour in just 3.6 seconds, with a top speed of 318 km/h.
The vehicle's AMG green hell magno body paint immediately announces the pedigree of a sports car that has spent most of its development on the Nrburgring, otherwise known as the Green Hell.
The carbon fiber used extensively throughout the vehicle's front fenders, roof and elsewhere contributes to the significant body weight reduction that enables this vehicle to blaze effortlessly across the track.
Not to be outdone, Mercedes-AMG's new 43 model series also made a strong showing at this year's Auto Shanghai, making AMG more approachable and attracting even more high performance car enthusiasts to the AMG family.
The new AMG 43 model series was so named to pay deference to a classic model, the C 36 AMG, which proved as great a success as the first model to result from the strategic cooperation between AMG and Daimler. This new model series is currently represented by the Mercedes-AMG GLC 43 4MATIC Special Edition, Mercedes-AMG GLC 43 4MATIC Coupe Special Edition, Mercedes-AMG C 43 4MATIC Special Edition and Mercedes-AMG E 43 4MATIC Special Edition.
As AMG 6-cylinder models after the new nomenclature came into effect, the AMG 43 models are opening up the AMG brand to a new, wider group of customers.
These models are produced in strict accordance with AMG standards, and therefore feature re-engineered AMG engines, re-engineered 9G-TRONIC transmission, AMG Sports Suspension, and a series of other AMG-specific brand genes.
The re-engineered AMG V-6 bi-turbo engine with the re-engineered AMG 9G-TRONIC transmission and the rear-biased AMG Performance 4MATIC combine to deliver unrivaled performance, allowing these vehicles to deliver not only an exhilarating, high-performance driving experience, but also ideal daily driving capabilities.
(China Daily 04/19/2017 page23)
Today's Top News
Editor's picks
Most Viewed