Mercedes-AMG celebrates 50 years of motorsports excellence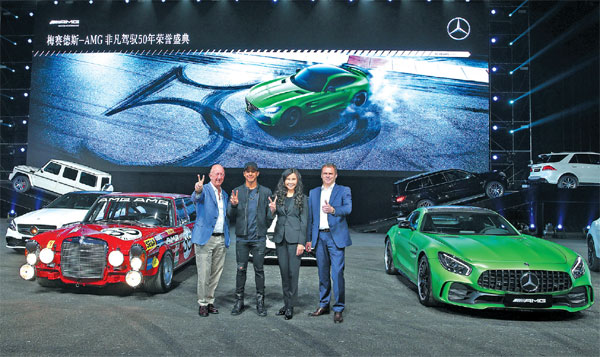 From left: BMBS President and CEO Nicholas Speeks, three-time Formula One World Champion Lewis Hamilton, Executive Vice-President for AMG and smart Sales Operations at BMBS Mao Jingbo and Chairman of the Board of Management of Mercedes-AMG GmbH Tobias Moers gather to celebrate the 50th anniversary of Mercedes-AMG in Shanghai on Saturday. Photos provided to China Daily
Fifty years ago, two aspiring people, Hans Werner Aufrecht and Erhard Melcher, opened up a humble workshop in Grossaspach, Germany. At the time, they were unaware that they would become the founders of the legendary success known as Mercedes-AMG.
After half a century of fast-paced action, Mercedes-AMG is celebrating its biggest milestone yet in the largest passenger car market in the world, with the Mercedes-AMG 50 Years of Driving Performance Ceremony taking place in Shanghai on Saturday.
"China is one of Mercedes-AMG's most important markets today," said Nicholas Speeks, president and CEO of Beijing Mercedes-Benz Sales Service Co Ltd, as he addressed a large and diverse crowd of customers and media representatives, and one very special guest - Formula One legend Lewis Hamilton.
"The success of Mercedes-AMG in China is especially important to us, and our efforts in this market enrich our entire product range by injecting fresh passion into the Mercedes-Benz brand."
The event also bore witness to the exciting conclusion of the two-day 2017 Mercedes-AMG Driving Performance Competition, which took place on Friday at the Zhejiang International Circuit as a prelude to the first stop of the 2017 AMG Driving Academy.
The Mercedes-AMG 50 Years of Driving Performance Ceremony was a celebration of the company's strong legacy of delivering a range of extraordinary models, including the Mercedes-AMG GT R, the GLC 43 4MATIC, the GLC 43 4MATIC Coupe, the C 43 4MATIC and the E 43 4MATIC.

In addition to these new members of the Mercedes-AMG family, the classic 300 SEL 6.8 AMG also made an appearance at the event after a 46-year hiatus, serving as a striking reminder of AMG's first-ever motorsports victory in 1971.
"We've put racing genes into every vehicle over the past 50 years to bring motorsports into daily life," said Tobias Moers, chairman of the Board of Management of Mercedes-AMG GmbH.
Indeed, Mercedes-AMG not only won countless victories on the track, but it also managed to experience half a century of success by adapting cutting-edge motorsports technology to daily driving needs. It has been delivering an extreme driving experience with feature-rich products to secure its leadership in the high performance car segment.
"The brand has always been popular for products with a truly authentic identity, according to our principle of Driving Performance," said Moers. "Every car we bring to market meets our brand approach, based on our distinguished motorsports experience."
But the most wonderful part of its globalization over the past half-century has been the outstanding decade-long footprint planted in China that will also be introduced to 11 new AMG models this year.
"Our robust network of dealers and fascinating marketing events have enabled customers to further experience the extraordinary spirit of the Mercedes-AMG brand and products," said Executive Vice-President for AMG and smart Sales Operations at BMBS Mao Jingbo, emphasizing the significance of another milestone in China.
"2017 marks Mercedes-AMG's 10th year in China," she said. "It will be a big year of products for Mercedes-AMG in China, as we will introduce many new products here."
As a testament to this claim, Mao said the company will not only debut the Mercedes-AMG GT R and the new Mercedes-AMG 43 series over the weekend, but will also launch them in China later this year.
The Mercedes-AMG GT R began its legend by dominating the challenging Nrburgring-Nordschleife track. With its edgy elegance and ultimate performance capabilities, this vehicle embodies the brand's strong motorsports credentials while catering to high-performance fans with an eye for aesthetics.
The car is equipped with a 4.0-l V8 biturbo direct injection engine which offers a maximum output of 430 kW (585 hp) and a peak torque of 700 Nm. In combination with an AMG SPEEDSHIFT DCT 7-speed transmission, the Mercedes-AMG GT R is able to accelerate from 0-100 kph in just 3.6 seconds, and has a top speed of 318 kph.
Also unveiled was the new Mercedes-AMG 43 model series, which is expected to "grant more high-performance car enthusiasts the opportunity to join the AMG family", Mao was quoted as saying.
Powering the 43 model series are re-engineered AMG 3.0-l V6 biturbo engines, capable of maximum power outputs of 270-295 kW and a peak torque of 520 Nm. These engines work with a re-engineered AMG 9G-TRONIC transmission system to deliver both an exhilarating driving experience and a seamless, responsive gear-shifting experience.
"The experience of the last 50 years and the success we gained are the fundament for our future," said Moers.
And obviously, going forward, Mercedes-AMG will continue to enjoy a bright future in China with its rapidly growing fan base of passionate performance enthusiasts.
zhuanti@chinadaily.com.cn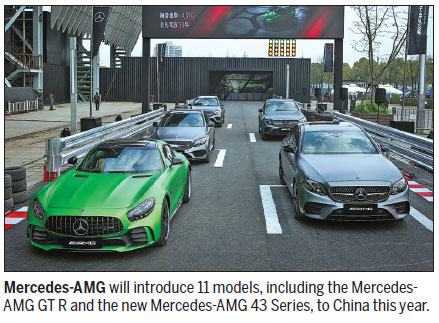 (China Daily 04/10/2017 page19)
Today's Top News
Editor's picks
Most Viewed