The Rooster's call harkens another solid year for Mercedes-Benz
The first quarter of this year saw Mercedes-Benz's unsurprising but remarkable growth of 37 percent year-on-year, the highest among German premium brands in China.
The Stuttgart-based automaker has clearly extended the positive momentum of a successful 2016 to start the new year off strong. In 2016, the company's 28 percent year-on-year growth also outpaced that of its traditional competitors in the market.
Last year, Mercedes-Benz delivered 480,944 vehicles to customers in China, bolstered by a company-wide focus on innovation and the introduction of 16 all-new and face-lifted products, including the iconic E-Class, to the Chinese market.
"Last year was our 'Year of Innovation' in China and it has turned out to be a quite successful year for our brand - both here and globally," said Nicholas Speeks, president and CEO of Beijing Mercedes-Benz Sales Service Co, at a media conference earlier this year.
"Mercedes-Benz was globally the best-selling (premium) brand in 2016," Speeks quoted Chairman of the Board of Management Daimler AG & Head of Mercedes-Benz Cars Dieter Zetsche as saying.

"(It) left no doubt about the contribution made by our development in China to that position," he said.
Speeks stressed that they do not see that level of growth, not even that of 2016, for the rest of the year as the pursuit of ranking or volume is not the only priority for the company. Instead, a sustainable, profitable, and healthy development with the brand value being well preserved stay as their focus..
Product strategy
This year, with about 15 new products set to launch in China, including the long-awaited new S-Class, new GLA, and the all new Mercedes-AMG 43 model series unveiled earlier this month in Shanghai, the company is striving to continue to please Chinese customers by building on its strong product offense in 2016.
"Since four years ago, Mercedes-Benz has been trying to increasingly integrate Chinese characteristics into the forefront of development for our range of cars," said Speeks.
The strategy has steadily manifested on its already strong product line-up, such as the core product E-Class, in which a range of features, such as the long-wheelbase version with a third-fixed window, are tailored to meet the unique tastes of Chinese customers, further focusing the brand on optimizing its business strategy according to the specific demands of the China market.
Also impressing the market is the stylish and avant-garde GLC Coupe, which fuses the flexible capabilities of an SUV with the agility and grace of a coupe to create something entirely new. Since its release, the vehicle has rapidly gained popularity amid Chinese customers.
Mercedes saw its sales of compact cars grow by nearly 60 percent last year compared to 2015, with locally produced models taking up nearly 70 percent of its total sales, which all contributed heavily to boosting the company's accelerated pace.
Customer experience
The company's strong product offensive continues to be enhanced through the launch of numerous industry-leading innovative initiatives in the local market, led by the Best Customer Experience strategy.
Mercedes-Benz is working with its dealer network to elevate the concept of customer service to a new strategic level in order to transition from offering standardized services to more diversified, personalized brand touch points.
"BCE is the foundation for our future development and is at the core of our efforts to establish competitive advantages via differentiation," said Speeks. "In addition to an innovative series of products and services, the innovative and visionary BCE strategy will help us better satisfy customer demand for diversified, individualized and convenient services in an era of digitalization."
China is among the first major markets covered by the BCE strategy. The initiative covers a diverse mix of offline customer events, as well as new digitalized customer experiences with the launch of a series of customer services ranging from the pre-sale and after-sales stages to future mobility and lifestyles.
The avant-garde Mercedes me Sanlitun, which opened last April in the bustling heart of Beijing, serves as a physical embodiment of this multifaceted approach to customer service.
At the venue, visitors are able to dine and shop in a relaxing environment that is equally artistic and social, while taking advantage of bespoke Mercedes-Benz services such as test-drive bookings.
Mercedes me Sanlitun forms part of a bigger tapestry with digital brand access points such as the Mercedes me portal, mobile-accessible door-to-door services and newly established Mercedes-Benz E-Commerce platform, making it easier for customers to look up cars online, reserve vehicles and book test drives.
All these initiatives are being implemented with the support of Mercedes-Benz's expanding dealer network, which continues to form the cornerstone of the company's business. The company makes great efforts to align its vision and action with its dealer partners in order to achieve a seamless online and offline brand experience, and has done well in achieving sustainable and healthy operations across the board.
A new dawn
So far this year, Mercedes-Benz's dedicated approach seems to be paying off. When Speeks kicked off the Year of the Rooster with a video greeting to Chinese customers, he said that Mercedes-Benz always tries its best to delight its customers, and "we will continue to do so in the Year of Rooster, to deliver exciting products, innovative services and the best customer experience".
In the video, Speeks then provided some advice and insights on Mercedes-Benz's attitude.
He mentioned the importance of being prepared for anything, the value in seizing opportunities and the transformative power of finding innovative ways to embody your vision, a belief which has motivated Mercedes-Benz from the very start.
"That was the spirit which drove Karl Benz to invent the automobile," he said. "And it is the same spirit which continues to drive Mercedes-Benz forward."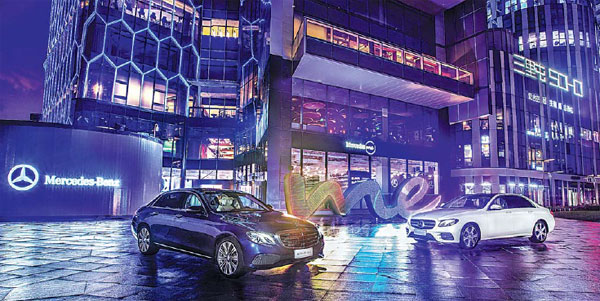 Mercedes-Benz's diverse approach to success includes both powerful products like the E-Class L and modern brand experiences like those offered at Mercedes me Sanlitun. Provided To China Daily
(China Daily 04/18/2017 page15)
Today's Top News
Editor's picks
Most Viewed