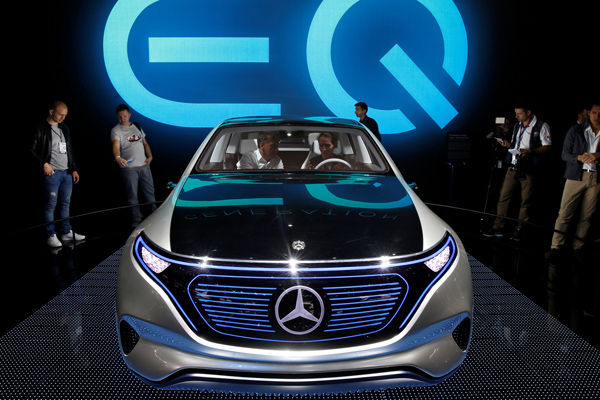 The Mercedes EQ concept car is displayed on Sept 30, media day at the Paris auto show. [Photo by Enoit Tessier/For China Daily]
New energy vehicles are increasingly taking center stage in the automotive world, with several major automakers announcing their electric car strategies at the ongoing Paris auto show.
Mercedes-Benz unveiled a new product brand, EQ, for its electric models, and an electric SUV called Generation EQ made its world premiere in Paris.
The automaker said the name EQ stands for Electric Intelligence and is derived from the Mercedes-Benz brand values of "emotion and intelligence".
The new brand encompasses all key aspects for customer-focused electric mobility and extends beyond the vehicle itself.
"The emission-free automobile is the future. And our new EQ brand goes far beyond electric vehicles. EQ stands for a comprehensive electric ecosystem of services, technologies and innovations," said Dieter Zetsche, CEO of Daimler AG and head of Mercedes-Benz Cars.
"The mobility of the future at Mercedes-Benz will stand on four pillars: Connected, Autonomous, Shared and Electric. 'Generation EQ' is the logical fusion of all four pillars."
The production of the concept vehicle Generation EQ will mark the launch of an architecture of battery-electric vehicles across all models.
Zetsche said: "In 2007, the e-smart was a pioneer of electric motoring. We're now flipping the switch. We're ready for the launch of an electric product offensive that will cover all vehicle segments, from the compact to the luxury class."
With two electric motors on the front and rear axles and a battery in the vehicle floor, Generation EQ embodies a powerful vehicle concept.
With a total output of up to 300 kW in the most powerful variant and a maximum torque of up to 700 Newton meters, Generation EQ accelerates to 100 kilometers per hour in under five seconds. Combined with the intelligent operating strategy from Mercedes-Benz, Generation EQ has a range of up to 500 km.
Another brand of Daimler, smart, has revealed the new smart fortwo Electric Drive, which, it says, is the first electric car available as a convertible.
The model will be available in the United States by the end of this year. A four-door model, the smart forfour Electric Drive, will also be available in Europe.
Volkswagen AG is also betting big on new energy vehicles.
The company unveiled a concept car called the I.D., which has a range of up to 600 km and is expected to go on sale in 2020.
The car is based on MEB, the carmaker's new platform dedicated to new energy vehicles, which will also roll out in 2020.
"The future is electric," said CEO Matthias Muller, who said that the group is to roll out more than 30 electric vehicles by 2025 besides those that have already hit the market.
Experts believe that some of its electric cars will be produced in China as it is in talks with Chinese automaker JAC on building a joint venture to develop and build new energy vehicles.
Volkswagen AG also plans to introduce 17 plug-in hybrids by 2018, the first being Porsche's Panamera E-Hybrid, also showcased at the Paris auto show.
Muller said Volkswagen is working on a rapid-charging project for new energy vehicles as he believes "the breakthrough for e-mobility cannot be achieved without substantial progress in batteries and infrastructure".
French automaker Renault debuted a redesigned version of its ZOE electric car that it says can go 300 km on a single charge.
Japanese carmaker Toyota is showcasing the all-new Prius Plug-in Hybrid at the show.
The car combines all the attributes of the fourth-generation Prius with a class-leading all-electric driving range.
Toyota was the first car manufacturer to offer Plug-in Hybrid Vehicle (PHV) technology.
The launch of the second-generation Prius Plug-in Hybrid is another step toward its goal of reducing whole-fleet carbon dioxide emissions by 90 percent by 2050.