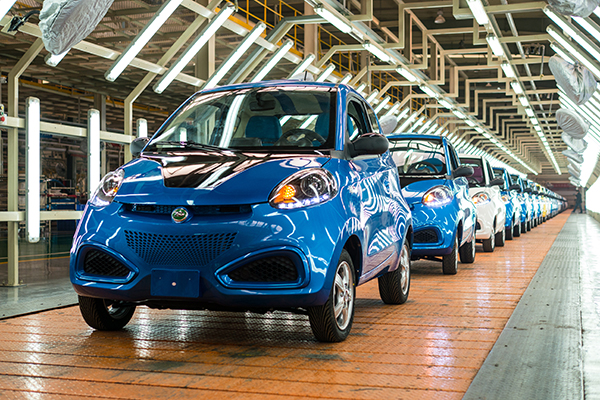 ZD's fully-electric two-seaters roll off the production line in the Lanzhou plant in Gansu province, Jan 11, 2015. [Photo/China Daily]
Geely Automobile Holding has opted to sell its interests in micro-sized electric carmaker Zhidou, to enable the company to operate as an independent entity as a prerequisite to get listed in the nation's new energy vehicle catalog.
The Hongkong-listed Geely Automobile said in the news release on Friday that getting its products listed under the brand ZD is imperative for Zhidou's future, and will allow it to compete independently in the market. Under current regulations and conditions, the product can only be referred to as Geely ZD.
Geely Automobile announced a framework agreement on June 22 to sell part or all of its 45 percent interests held by two subsidiaries, Zhejiang Jirun Automobile Co and Shanghai Maple Guorun Automobile Co, in Ninghai Zhidou Electric Vehicles Co to a China-listed company. Detailed terms of the agreement have yet to be determined.
Jia Xinguang, senior analyst with the China Automobile Dealers Association, said: "The move could be a strategic adjustment made when Geely found the mini-sized electric car project might not be in line with its long-term plan. Another possibility is that Zhidou is growing stronger and seeking independence."
Zhejiang Geely Holding Group Co planned for new-energy vehicles to make up 90 percent of its sales by 2020, and about two-thirds of Geely's new-energy vehicle sales will come from plug-in hybrids and gasoline-electric hybrids by the end of the decade, with the rest coming from battery-electric vehicles.
Geely Automobile joined with Taizhou Xindayang Group Co to establish Xindayang Electric Vehicle Technology Co in January 2015 to manufacture ZD-branded electric cars in Lanzhou, capital of Gansu province in northwestern China.
Local media reports cited industrial data which indicated that the ZD brand failed to close a single deal in the first four months of this year, after registering 25,300-unit sales in 2015.
The ZD brand was expected to achieve an annual sales volume of at least 500,000 by 2020, 20 times that of ZD's 2015 sales, according to Hu Hesong, a partner in the venture capital fund GSR Ventures, one of the investors in Xindayang EV.
There are now two mini-sized two-seater models being offered by the ZD brand, the D1 and D2, with prices ranging from around 30,000 to 50,000 yuan ($4,600 -$7,700) taking national and local subsidies into consideration. The ZD car models are eligible for an NEV plate in cities where gasoline car sales and usage are restricted.
ZD brand's annual production capacity totaled 300,000 units, a figure that also accounts for the integration of Xindayang Electric Vehicle Technology Co and the earlier establishing of Shandong Xindayang, according to the company.
Xindayang EV took over Geely Automobile's Lanzhou plant after a 300 million yuan-plus upgrade in 2014, with the aim of obtaining a permit to manufacture passenger vehicles.