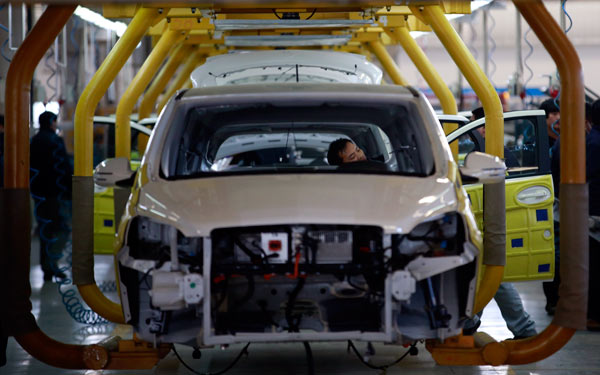 Employees assemble electric cars at a factory in Beijing. [Photo/China Daily]
Automakers building low-quality cars to get govt aid, say reports
China's central government launched a fraud investigation on Thursday of the new-energy vehicle sector, with the probe to cover government bodies, manufacturers and business customers, after industrial insiders warned of subsidy fraud.
Four government bodies, the Ministry of Finance, Ministry of Science and Technology, Ministry of Industry and Information Technology, and National Development and Reform Commission, will jointly carry out surprise inspections in selected cities.
The authorities will look back three years to check the use of fiscal subsidies in 2013 and 2014 and subsidy applications in 2015; the consistency of key indicators of mass-produced electric vehicles with the data listed in the nation's products catalogs; and the use of the vehicles by business customers.
Yale Zhang, general manager of Automotive Foresight (Shanghai) Co, said there is subsidy fraud in many small cities, mainly covering electric buses and commercial vehicles.
"There are a large number of small vehicle makers who obtain government manufacturing permits, then they sell the permits to even smaller plants, who are only concerned with the subsidies," Zhang said.
Major cities such as Beijing, Shanghai and Guangzhou have very strict administration of the field. These cities have tens of thousands of NEVs in use, so the business customers require big brands, which are unlikely to be involved in fraud, according to Zhang.
Local Chinese media reported that about 108,000 NEVs were registered for plates in the first 10 months of 2015, 63 percent of the 171,145 units sold. The Ministry of Industry and Information Technology announced that the nation quadrupled its output of new-energy vehicles to 379,000 in 2015.
Reports said that some permit holders are simply selling batteries to small plants, without manufacturing working vehicles. The plants assemble poor-quality vehicles and sell them to their own car rental companies, which have no working fleets, but exist only to obtain the subsidies.
Generous subsidies
The central government's fiscal stimulus measures on purchasing passenger NEVs include waiving 10 percent tax on purchase and up to 54,000 yuan ($8,210) in subsidies for pure electric car buyers. Additional subsidies are also available in 88 cities. A pure electric car buyer in Guangzhou, for instance, is eligible for up to 117,000 yuan in subsidies from the national and city governments, while buyers in Shanghai can obtain up to 114,000 yuan from central, municipal and district governments.