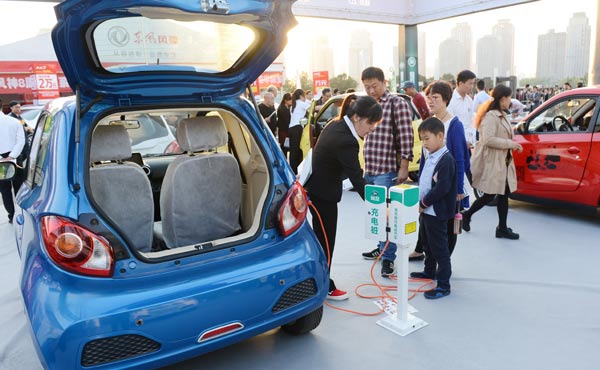 Visitors to an auto show check a charging post. The country is tightening its subsidy policies on new-energy vehicles in an attempt to transform the market from policy-driven.[Photo/China Daily]
Plan shifts focus from buyers to care of charging infrastructure
China is switching its focus in promoting new-energy vehicles from providing incentives to electric carmakers and buyers to giving subsidies for the construction and maintenance of charging facilities.
Last week, a draft plan intended to stimulate the extension of electric car charging facilities across the country in the next five years was released for public opinion by five government departments, including the Ministry of Finance and Ministry of Science and Technology.
The draft makes local governments eligible for up to 200 million yuan ($30.8 million) in annual rewards from the central government.
According to the draft, provinces and cities are able to receive rewards from the top authority, and the higher their NEV sales figures, the larger the rewards.
Next year, areas that meet a minimum requirement of selling more than 30,000 NEVs will get 90 million yuan. In addition, the central government will provide a special bonus of 7.5 million yuan for every 2,500 units of increased sales. The reward ceiling is 120 million yuan.
Both minimum requirements and the incentive ceiling will grow annually, the draft said.
In 2020, the minimum sales requirement will grow to 70,000 units and areas that qualify will earn 126 million yuan. The bonus rule will change to 11 million yuan for every 6,000 units of increased sales, and the bonus cap to 200 million yuan.
The draft calls for all local governments to make plans to promote new-energy vehicle and charging infrastructure operation, and to report those plans to the drafters by the end of March.
The draft said the reward money must be used in areas related to charging facilities, such as construction, operation and upgrades to facilities.
The money may not go to subsidies for purchasing NEVs or operating electric car businesses, which are the current destination of most NEV incentives.
With a record 72,300 NEVs produced last month, a 600 percent growth year-on-year, China's new-energy vehicle market continues to soar.
Data from the Ministry of Industry and Information Technology shows that China's NEV production surged fourfold to 279,200 units in the first 11 months of 2015.
The numbers are impressive but the achievements were made under strong backing from government policies. It is unknown whether the trend will remain without such support policies.
"Automakers will have no choice but to lower their prices to a reasonable level when subsidy policies are phased out," said Zhang Yu, managing director of Automotive Foresight (Shanghai) Co Ltd.
Zhang said buyers of new-energy vehicles are attracted mostly by easy-to-get car registration, large subsidies, fuel efficiency and tax reductions. Therefore the price of NEVs needs to drop from current levels to remain competitive when the subsidies end.
The country is tightening its subsidy policies on new-energy vehicles, attempting to transform the market from policy-driven to market-driven.
Earlier this year, the Ministry of Finance released a notice of its financial support policy for new-energy vehicles from 2016 to 2020, which indicates the incentives in 2017 and 2018 will be 20 percent lower than 2016, and will be 40 percent lower in 2019 and 2020 than in 2016.
The notice also raised the technology standard needed to obtain incentives. An e-car model must reach a range of 100 km instead of 80 km to be eligible for the subsidy next year.
"Local electric carmakers need to improve their technology," said Guo Yan, executive deputy director of the Center of Policy Studies for the Automotive Industry in China at Tianjin University.
"Our country intends to develop its NEV industry over the long term, so local automakers have a great opportunity to grow. But, at the same time, high-value-added products from our self-owned brands, such as batteries, electric engines and electric control units are still at mid-end and low-end levels," Guo said.
"There is a long way to go to catch up with foreign advanced technology."