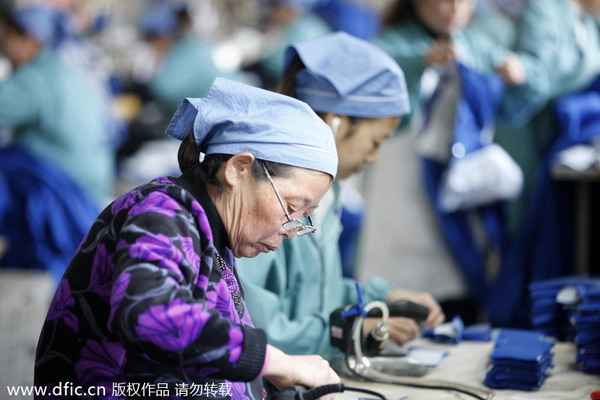 Female Chinese workers sew clothes to be exported to the United States and Europe at a garment factory in Huaibei city, east China's Anhui province, Jan 1, 2014. [Photo/IC]
China's latest economic blueprint for 2016 has grabbed attention of foreign media organizations.
The plan was launched during the Central Economic Work Conference held in Beijing from Dec 18 to Dec 21.
According to an official statement released after the meeting, the government will make fiscal policy more forceful and monetary policy more flexible to keep growth within a proper range in 2016, while pushing up structural reform on the supply side.
The country vowed to "add new supply, create new consumption and form new growth momentum" through innovation in institutions, technology and products.
Here is a selection of quotes from international media.
"The official pointed to monetary and fiscal levers Beijing can still pull to help spur growth as well as the leadership's determination to proceed with reforms that could put the economy on a stronger footing in the long run."
China unveils economic blueprint for 2016
-Wall Street Journal, Dec 21
"China aims to promote structural reform on the supply side next year through measures that include widening financial deficit, and will continue to seek progress while ensuring stability."
China to push up 'supply side' reform next year
-Union Morning Post, or known as Singapore's Lianhe Zaobao, Dec 22
"The government will embrace more 'accommodative' fiscal and monetary policies, according to a senior Chinese policy official familiar with the planning, while reducing surplus production capacity, lowering costs for businesses and selling off stockpiles of properties and industrial goods."
China's economic planners promise more 'flexible' policies
-Financial Times, Dec 21
"China's leaders signaled they will take further steps to support growth, including widening the fiscal deficit and stimulating the housing market, to put a floor under the economy's slowdown."
China leaders flag more stimulus after top economic meeting
-Bloomberg, Dec 21