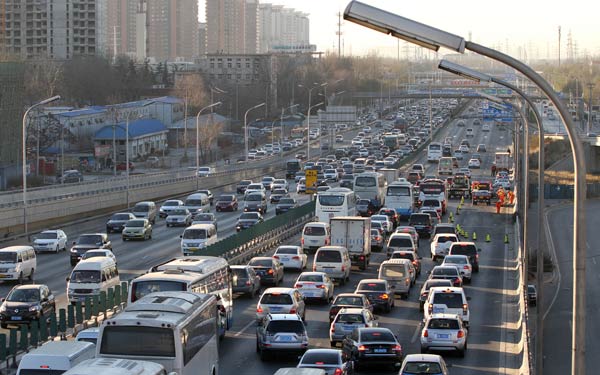 The Fourth Ring Road in Beijing in a morning rush hour. City authorities are working on solutions to ease the pressures on traffic in the city. [Photo/China Daily]
Beijing, bogged down in severe traffic congestion like many densely populated metropolitans around the world, has made a five-year plan from 2016 to 2020 in an aim to resolve the problem.
The commission of transport for the city, which has more than 21 million people and 5 million vehicles, announced last month a series of efforts to ease traffic pressures, including a pilot plan to collect a congestion fee, impose restrictions on the use and purchase of vehicles and to promote environmentally conscious traveling.
The measures will be implemented over the course of the city's five-year plan.
On Dec 28, 16 subway stations began offering a 30-percent discount on each ride for passengers who take the subway before 7 am on weekdays in one of the city's first moves to ease traffic congestion during rush hours.
The commission has set a number of goals to meet by 2020, including keeping the population below 23 million, operating 1,000 kilometers of rail transit and 1,000 km of bus routes, and encouraging 75 percent of its residents travel by public transport, bicycle or on foot.
Currently only 46 percent of Beijingers use the public transit system, bike or walk, although the capital has taken measures in recent years to prioritize public transit.
In many major cities around the world, the proportion of people who travel by public transport is between 60 and 80 percent.
The Beijing transportation research center said that in 2013, heavy traffic on a weekday lasted for a total duration of 1 hour and 55 minutes a day, 25 minutes more than in 2012 and 45 minutes more than in 2011.
Taking action
Zhou Zhengyu, head of the commission of transport, said last month that Beijing will unveil new policies this year to limit the number of cars on roads and promote public transportation, according to People.cn.
Zhou said the commission will evaluate the possibility of collecting a congestion fee sometime this year and discuss collection methods and which areas of the city should be charged.
This is not the first time Beijing has proposed a congestion fee plan - authorities discussed the issue in 2010 and 2013 but did not take action.
Currently, no city in China charges a congestion fee. Some cosmopolitan cities such as London and Milan impose a charging plan.
Britain's capital introduced the plan in 2003 to charge drivers in congestion zones from 7am to 6pm on weekdays. The initial daily fee of five pounds has been raised to the current fee of 11 pounds and 50 pence per day.
Some vehicles are exempted from the fee, such as electric cars, those that meet Euro V emission standards, and vehicles that emit below 75 gram of carbon emissions per kilometer.
Debate in the capital
In Beijing, industry experts have been grappling with the city's traffic problems.
Liu Yunfeng, an associate professor at the Beijing University of Technology, in an article he wrote for the China Academic Journal in April 2015, urged authorities to focus on the application and innovation of new technology and equipment to allow public transportation systems to carry more people.
The majority of companies in the public transportation industry are State-owned, Liu wrote, and explained that these companies need to improve their level of operational management.
Liu said the functions of the city center should be limited and that the city layout should be better organized to cut down on commute times.
Lu Weifang, professor of humanities and communication at Shanghai Normal University, said the congestion fee is a sound solution for a big city to ease its traffic pressures and control the rapidly rising number of vehicle owners.
Lu said big cities should increase parking fees in key areas and limit the number of vehicles on roads during rush hours.